Do you own a dog?  A Golden Retriever one?  If yes, then you must know that you need to buy a dog collar as wearing a dog collar is important for your pet dog. Buying a dog collar for a Golden retriever can be a tricky business. We all know that Golden retrievers are a small breed and playful creatures. The dog collars come in different shapes,  designs, and sizes but what size collar is fit for your golden retriever puppy?.
Each dog may differ when it comes to the "requirements" for a dog collar. Here is detailed information about dog collars and what size your golden retriever should wear?  Have a good read!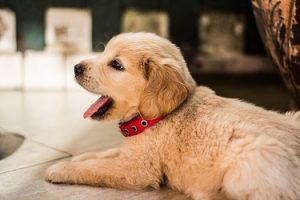 About dog collar 
The dog collar gives a sense of ownership and that the dog wearing it, "belongs somewhere ". As poetic as it sounds,  this is also vital for your pet's safety.
A dog collar is not a new thing to add up to dog accessories. It's been a symbol of the human-dog relationship for centuries. With time the concept has revolutionized. From the symbol of slavery and control, it became more of a helpful tool to train and communicate with dogs.
What size collar for a Golden retriever puppy?
Your golden retriever needs a collar that perfectly fits its neck. Different dog breeds have different neck sizes. Dog age is also an important factor in determining the size of the dog collar.
Usually, the 10-week golden retriever puppy will need a 6-9 inch collar size which will gradually increase with its growing age. At this time your golden retriever will be around 10 pounds but with age, it will grow up.
Some people may debate over flat or rolled collars for your golden retriever but in general,  they both are good and serves the purpose. Unless your vet recommends one of them due to specific health and safety reasons.
Before buying a collar, take proper measurements to avoid any uncomfortable situation. Always fasten it up in a proper way. Dog collars have different size adjustments. Do them carefully to ensure the safety of your golden retrievers.
Size chart for a Golden retriever.
Here is a neck size chart for a male and female golden retriever. This will help you in generally identifying where your golden retriever stands?  How much it should weigh and what size collar you might be expecting. Before buying the dog collar, carefully analyze the sizes.
An average adult Golden retriever has a 45-53 cm wide neck and an 18-21 inch collar will be of perfect size. Knowing the age is important here. Keep checking the measurements of your dog until it's fully grown.
| | | | |
| --- | --- | --- | --- |
| Golden Retriever age | Weight of male dog(approx) | Weight of female dog (approx) | Collar size (approx) |
| 7weeks | 8 lbs | 9 lbs | 8-12 inches |
| 8 weeks | 10 lbs | 10 lbs | 10-12 inches |
| 9 weeks | 12 lbs | 12 lbs | 10-12 inches |
| 10weeks | 15 lbs | 15 lbs | 12-14 inches |
| 11 weeks | 17 lbs | 17 lbs | 14 inches |
| 3 months | 22 lbs | 22 lbs | 14-16 inches |
| 4 months | 30 lbs | 30 lbs | 16-18 inches |
| 5 months | 40 lbs | 40 lbs | 18-20 inches |
| 6 months | 44 lbs | 43 lbs | 18-20 inches |
| 7 months | 48 lbs | 45 lbs | 18-22 inches |
| 8 months | 55lbs | 52 lbs | 18-22 inches |
| 9 months | 61 lbs | 52 lbs | 18-22 inches |
| 10 months | 63 lbs | 60 lbs | 20-24 inches |
| 1 year | 68 lbs | 70 lbs | 24+ inches |
| 2 years | 73 lbs | 70 lbs | 24-30 inches |
But
Why does your Golden retriever puppy need to wear a dog collar?
Your little golden pup  needs to wear a dog collar because
It saves lost and found drama
Collars nowadays have tags. The information on these tags includes the name of a pet,  name of their owner, address, and phone number of both owner and vet. Ideally,  your golden retriever must wear all this information while going out.
So dog collars save those old school lost and found drama scenarios where the owner would look helplessly for the dog and not been able to find it anywhere. Then suddenly from somewhere unexpected, the dog will show up and they will live happily ever after. Now thanks to a collar that your Golden retriever is safe… Phew!
Dog collar helps to control your dog's behavior
The dog collar has not lost its actual purpose for which it was "invented " and that is control. Having a certain control over your pet is important and recommended. A pet is like a child that needs to learn things. Golden retrievers are very energetic dogs and always want to indulge in activities. So dog collar can help you channel your golden retrievers' behavior.
Also, while walking through crowded places, your golden retriever needs your guidance to control and learn about Social behaviors. A dog collar will help you with that.
It helps you to communicate with your dog
Gone are the days when you were supposed to accompany your dog everywhere. Go get a life man,  because your dog has a life too and he is going to live it. Your golden retriever could also need a "me-time" or "alone-time" and you can still be able to approach them. Or maybe you are not available at that particular time to be with them.
Modern dog collars have a communication device that allows owners to communicate with dogs. Through this device, the owner can give instructions, control behavior, and communicate with dogs. Golden retrievers who are supposed to be with disabled people can enjoy the benefits of using such collars.
They help train your Golden retriever
During training,  dog collars and leash helps to assist and guide your Golden retriever. You can guide your dog through obstacles, make commands to jump, draw its focus towards training, and much more. However, you might think about what size leash for a golden retriever puppy is ok? So keep in mind that the leash must be 6-feet long for proper and better training.
They are important for the safety
Dog collars ensure the safety of both dogs and their surroundings. If your golden retriever is wearing a collar that glows in dark,  your dog is safe at night. In case, your dog is lost,  anyone who finds it will contact you through the number written on the collar. Your dog may experience an unexpected accident,  and the vet's number on the collar can save the life of your pet. So dog collar is a full safety package for your golden retriever.
It makes your dog responsible
Nowadays dog collars have a lot of options for upgrade. Some of them might surprise you too. With proper training,  one day your dog will surely learn to survive without many instructions. The dog collar can then act as assistance rather than some controlling device.
How to choose a collar for your Golden retriever?
Choosing a dog collar is no big science. It depends on what outcome you want from the deal. Not going deep and talking generally,  you need to choose the collar and leash that are comfortable, easy to handle and should look good on your dog.
You need to know what dog collars are made of and what are certain types of collars. Being a responsible dog parent research well before buying a collar for your golden retriever. It helps you to identify which collar will function well and suit the needs of your golden retriever.
Dog collars can be made up of different materials like nylon, leather or cotton web, etc.
Cotton web collars are comfy and a bit "easy" on your dog. Since they are made with soft material that is why they tear off easily. Usually, they are not very expensive and caters to the needs while training your puppy.
Nylon collars look good on dogs. You can choose a nylon collar of single-ply or double-ply thickness and they are durable. Single-ply thickness is ideal for small puppies and more thick ones are suited to adult dogs. As they a durable,  they can withstand daily wear and tear.
Leather collars are very strong.  A good-quality leather collar will not wear away easily. With time it will retain its appearance and durability.
Center cord collars are another type of very strong and durable dog collars. They have a nylon cord wrapped in leather or fabric to make it more comfortable yet strong.
Which type of collar will suit your Golden retriever? 
A dog collar can be bought for specific needs like training or generally to keep your dog within "limits".Choosing the correct dog collar is important. Your golden retriever needs a collar,  that is attractive as well as helpful. Traditional dog collars come in a variety of shapes,  colors, and sizes. Choose any one that appeals to you.
Always keep in mind that a dog collar must sit high on your golden retrievers' neck. To buy a perfect collar,  measure your dog's neck and then add 1-2 inches. It must be two fingers loose in width so that it fits the neck perfectly. Correct measurement is important. If the collar is tight,  imagine the amount of discomfort for your pet and if it is loose,  the collar will come out from the dog's neck.
Some collars cater to special needs too.  For example, if your golden retriever has a breathing problem,  harnesses are used. These go around from the chest and shoulders behind the front legs and aid in managing breathing problems.
Also,  there are halter-type collars that give you control over your dog's head hence fully controlling their behavior and movements. They are best for strict behavioral training.
What collars you must not use for your Golden retriever?
While choosing a collar for your golden retriever,  safety and comfort should always be your priority. Sometimes people buy collars that do not fit the dog's neck. A tight dog collar can cause suffocation. If the collar is loose then it can cause accidental hanging or it may hook up somewhere restraining your dog to move. To avoid this, Keep taking measurements of your golden retriever until it's fully grown. With growing age, the collar size needs adjustment accordingly.
Don't buy chain slip collars or pinch collars as if used incorrectly,  they will cause pain and injury to your golden retriever. Especially don't use them on newborn puppies because as fancy as they look, they can be very dangerous to your little pup.
Never use collars that don't match the "age requirements " of your golden retriever.  As small puppies will need lightweight and comfortable collars whereas adult ones will need durable and strong dog collars.
Should your Golden retriever wears a harness or dog collar?
Harnesses are the best alternative for dog collars. They are considered more safe and helpful during training. So collar may be your first choice and it is good too but if you are training your puppy, a little mismanagement can cause injury to your dog. For example, if you pull the collar too harshly.
Also, right fit collars can turn painful because the dog's positioning matters.  A collar that is normally fine may get tight while rolling on the floor. So the harness is a relatively safe choice for Golden retrievers who are undergoing training.
At last, talking about what size of dog collar is best for your golden retrievers, choose carefully. A right dog collar means a safe and happy dog. It's a matter of your pet's well-being and safety. Buy the dog collar responsibly because a wrong choice can bring a lot of uninvited problems and your little pup doesn't deserve that.