Are you going on a long vacation trip and you don't want to leave your beloved dog behind? Of course not! It's hard to have a fun time without your little companion who is just like a family member for you. In the modern world, you can easily take a dog or any other pet along with you while traveling, but there are a lot of details and requirements which are important to discuss before knowing how much does it cost to fly a dog?
In the United States, millions of people travel along with their beloved pups every year according to the records. Do you want to know the cost and requirements to fly a dog along with you? You are at the right place!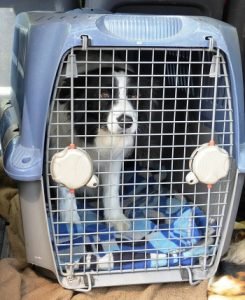 Cost to fly your dog:
When you are traveling alone, the budget is far more different than when you are traveling with your pet. You can travel with your dog, but there are two classes in which your pet can travel. The first one is cargo and the second is the cabin.
Now the question here is how would you know which one is more suitable for your dog. This is determined by the size of your dog, but general information about them is that cabins cost a little less than cargo.
Cabin:
There is a carrier under the seats of the passengers. If your dog manages to fit in that carrier, then your dog can easily travel in the cabin which costs less than traveling in cargo. This is possible only for dogs weighing less than twenty pounds, but the size, age, weight, and the entire policy can vary from airline to airline.
Not every airline has the same charges, but yes, all pets flying in one specific airline are charged the same amount. On average, the price range for traveling with a dog for cabins is around $50 to $250 for a single flight.
Cargo:
Are you wondering what's cargo traveling for dogs? Don't worry! We've got your back. Under the plane, there is a large compartment that has features like pressure and temperature control. All the large pets including giant dogs which are unable to fit in the cabin are traveling in the cargo.
Although both the cabin and cargo are for pets, one thing which makes the cabin more convenient is that the dogs aren't isolated from their owners. While in cargo, few dogs might get anxious as they are away from their pet parents.
We know that cargo service for flying a dog is more expensive than cabins, but it varies according to the size and weight of the dog. On average, the price for flying a dog in cargo ranges from $200 to $400.
Additional charges for flying a dog:
Now as we are aware of the cost of flying a dog, have you ever wondered there can be extra charges as well? If not, then we are here to guide you! Let's get started on it.
When you travel with your dog, and it is small enough to fit in the cabin of the plane, you don't have to pay for the dog, but it is considered as a luggage bag, and you pay for the additional bag.
Next comes the cost of the carrier for the cabin, which is about $25, and the price can be higher. However, a cargo crate is necessary for those dogs which are going to travel in the cargo, and they cost around $50 to $150.
All the pet owners who travel with their pets will have to pay a bit more than their usual flights, no matter if the dog flies in cargo or in the cabin. Also, they don't have much choice to choose either which airline do they want to prefer because taking pets along with them reduces the number of options as many airlines now restrict this traveling plan.
Cost of flying a dog in the US and other countries:
If you want your dog to fly with you domestically, it is less expensive as compared to international flights. On average, a pet owner has to spend around $1000 to travel with his pet. Also, another factor that reduces this cost is that your dog is small, or weighs less than 15 pounds. Most of the airlines allow the dog of this size and weight to travel in the cabin and that costs a bit less than other options. But having an ideal carrier is also important in this case.
Flying the dog anywhere in the USA costs you a bit less, but when it comes to flying internationally with the dog, you have to pay quite an amount of money. The starting price for some cheap airlines might be $800-900, but the popular airlines charge no less than $7000 to take your dog overseas.
However, there is a scenario where the cost is even higher than both of these situations. There are some rabies-free countries in the world, where it is quite tough to travel with a dog through usual airlines. This kind of traveling requires a third-party pet transportation service. This costs you even a lot more than the cost of flying a dog in the USA and internationally.
Airlines of the USA for traveling a dog:
Not all airlines offer similar services for traveling with a dog, but all of them have different policies, but these policies are according to the parameters set by the Federal Animal Welfare Act. Not only can these policies make your trip costly, but also they have become a bit restrictive nowadays.
American Airlines 
If you want to know which airline is best to fly a dog, then there is no other name than American Airlines. If you have an appropriate carrier that is airline-friendly and can easily fit under the seat, then the American airline allows the passenger to take their pups along with them on the flight.
Well, the main concern here is how much American airlines cost when it comes to traveling with your dog. If you are traveling in any of the cities including Colombia, the Caribbean, Mexico, Central America, and Canada, you will have to pay $125 for one kennel. The dogs who are not suitable for cabins can travel in the cargo unless they are not Brachycephalic.
The major thing you need to understand here is that the flying cost we mention here is only the major flight cost for the dog. There are plenty of other expenses as well, that come with flying a dog. The most common example of these expenses includes the veterinary checkup on the day of departure.
Delta
Delta Airlines is also famous if you are planning on flying your pet. You can take your pet to the lodge with you given that they travel in an appropriate carrier. Not only should the carrier fit beneath the seat, but also make sure it has appropriate ventilation just as a waterproof base. On account of the size limits on Delta Airlines, just little canines can fly.
For the most part, the expenses just apply to one pet, but there are always some exceptions. As an exemption for this, two pups who are between 10 weeks and a half years old, and belong to the same breed and size might travel together in a similar carrier. What's even more interesting? Let's see! You will not have to pay for each of them, because the duo will be considered as a single pet.
There is always a significant amount of expense which you need to pay on the off chance that your pet qualifies to fly. Inside Puerto Rico, Canada, and the US, there is a $125 expense on every side to carry on your pet. For global travel or travel to the US Virgin Islands, that expense leaps to $200. Nonetheless, in case you're venturing out to Brazil, the expense is simply $75.
Not only should your pet be the right age, but also being the right size is important. Your pet should be somewhere around 10 weeks old to fly with Delta domestically, and 15 weeks old for EU travel, or four months old for venture out back to the US.
| | |
| --- | --- |
| AIRLINE | CHARGES |
| American airlines | $125-200 |
| JetBlue | More than $100 |
| Air Canada | More than $50 |
| Delta | $100 or up |
| Swiss International Airlines | $60 and up |
| Frontier Airlines | $70 above |
| Openskies | $196 |
| Iberia | Starting at €120 |
What are the requirements for flying with a dog?
Now that we know how much does it cost to fly a dog, it is time to get some knowledge about the requirements for making a dog eligible to fly. From vaccinations to healthcare certificates, many important factors make a dog ready to fly with you.
Let's have a look at them!
Acclimation Certificate 
An acclimation certificate might be something new for you, but it isn't difficult. Well, there is a specific temperature up to which your dog can survive normally.
The acclimation certificate shows that temperature and is important for traveling because it makes sure that your dog can survive easily in the temperature of the cargo or the plane. You must know which airline requires this certificate or not so that you may get it ready before your flight.
Rabies Vaccination Certificate
Before an airline approves your dog to get on the flight, it may require a rabies vaccination certificate to ensure the ultimate safety. Make sure your dog has this certification before taking a ticket to prevent any misunderstanding.
Health Certificate or Certificate of Veterinary Inspection
Certificate of veterinary inspection or health certificate indicates that the dog is not suffering from any kind of infection or disease, and is completely healthy and fine. There is a specific time for this certificate to be valid, so make sure your dog's certificate isn't expired before you show it to the airline. Generally, it is good to visit the vet a week before you leave for the flight.
General Flight Policies for Dogs:
As discussed, not all the airlines have same policies; they vary from one to another. But the general policies to fly a dog that is important to know more than the cost of the procedure are:
Reservation charges
The reservation fee depends on the fact that either you are traveling internationally or domestically also, it entirely depends on the airline you have chosen. The average range for reservation charges is around $100-$150 for a single-way flight.
Inside the kennel
When your dog is traveling along with you in the cabin, it is not allowed to come out of the cabin. The most you can do is move around the cabin, but almost no airline allows the dog to get outside the kennel until there is an emergency.
Dog Kennel:
As you have to buy a dog kennel for your pup when it is traveling in the cabin, make sure that it is comfortable for the dog. Also, its size should be accurate according to the space under the passenger's seat. An airline-friendly dog will make your flight with your dog worth it.
Dog's age:
If your pup is too small, most airlines will not allow it to travel until it's old enough. A dog should be 10 weeks or even older to travel with you on a flight. So, always make sure that the airline you are choosing allows your dog with its present age.
Bottom Line:
If any of you were wondering how much does it cost to fly a dog, he would have sufficient knowledge about it after reading this article. Traveling with your pup is not difficult, but you have to be sure about the carrier, age, kennel, size, and health of your dog. Moreover, traveling domestically is convenient and less expensive as compared to traveling internationally. Get your dog checked by the vet, and travel around the world.
You may want to check specific requirements for a german shepherd dog import cargo we have already done.