Don't know how to make your own bully sticks? Don't worry because most of the pet owners, even vets don't know how to make them. Are you wondering that what is a bully stick? If you aren't familiar with this term, then you must have heard about steer sticks, bull pizzles, pizzles, pizzle sticks, or bully sticks. All are the same! Bully sticks are quite an absorbable bite treats made up of bull/steer pizzle, also known as bull penis. It is the only ingredient used it t, hence, bully sticks are 100% natural. They can be in different shapes and sizes so, you don't worry about that. They come with plenty of benefits such as they are good for dental health. Bully sticks are available in the market but let us discuss that how to make your own bully stick at home.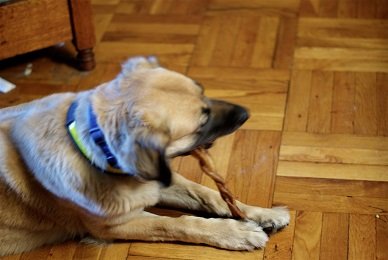 How bully sticks are made?
It is important to know that how the bully sticks are made traditionally because that method will be quite helpful in making the bully sticks on your own. There are different methods used to manufacture bully sticks but all of them require the same ingredient. At first, all the fluids are drained, they are cooked. The two common methods of cooking bully sticks include baking and smoking. Now let us have a detailed look at the procedure.
Ingredients:
The only raw material needed to make a bully stick is Bull pizzle. When manufactured traditionally, the bull pizzles are transferred to the bully stick manufacturing plant from the meat processing facility. While being transferred, they are stored in freezer boxes to keep them fresh. But finding a bull's penis on your own is quite an odd task and it seems to be very unusual. But it isn't that weird, as multiple butchers are slaughterhouses have stored them for such purposes. You can contact any of them near you, and they will most likely deliver you the ingredient.  Until not in use, it is recommended to keep them cold as they will remain fresh. The fresher the material, the more delicious will be the treat.
Cleaning:
Now after receiving the bully stick, the first task is to clean it and make it hygienic for the dog. There are three cleaning steps:
Removal of fat:
The treat should be quite healthy for the dog as, you are rewarding it for something nice also, its health should be your priority. Hence, removing the excess fat from the bull stick is quite necessary. It will make sure that you are not providing your dog with high-calorie food as it can lead to various diseases.
Cleaning fluids and urine:
The second cleaning step is the removal of all the fluids present in the bully stick. As the bull stick performs several body functions hence, there will be urine, blood, or some other fluids present in it. For maximum hygiene, removing them is as important as providing your dog with quality food. For this, cut the bull stick down the centre. It will empty the cavity.
Washing:
The final cleaning step is washing. You can either wash the raw material in a bath of clean water or use professional washers such as stainless steel washer. You have to continue this process for several hours. This will eliminate all the impurities from the material, making it suitable for further processes.
Giving them a shape:
Bully sticks come in a wide range of sizes and shapes. However, it is important to give them the desired shape when they are still soft and fresh. After cooking, the sticks become dry and hard hence the shape should be given before cooking when the sticks are malleable. Among several shapes, straight ones are the most common bully sticks whereas those in curls, braids, and pretzels pattern are also quite common.
Cooking

:
The Bull sticks can be cooked using two methods; baking or smoking. Most people do not have smokers at their home hence, baking is preferable. The bully sticks are cooked at some temperature that is between 165 F, to 175 F but usually, the average temperature is 170 degrees Fahrenheit. The bully sticks are cooked for quite a several days. This much-delayed cooking makes sure that the bully stick is dehydrated as much as it could so that, it could last longer. Also, if they are not dried completely, and there is always the risk of bacterial contamination. Additionally, it can be decayed as well. While cooking, the bully sticks are hanged so that, they may not lose their shape. Hooks are present at both ends that prevent the bully sticks from shrivelling into shapes.
Cutting:
Cutting is the next step to cooking. When cooked, the bully sticks are quite long hence, they should be trimmed for the ease of your dog. The total length varies from 25 to 35 inches, but a single bully stick should be 6 to 9 inches.
Length of Bully sticks:
The length of bully sticks should be decided according to the dog you have. If you have a large dog breed, then it can consume a 12-inches bully stick as well. On the other hand, 6 to 8 inches are enough for a small dog. Hence, make sure you are cutting the bully sticks by keeping the nature of your dog in mind.
Width of bully sticks:
The size of the dog largely affects how much should be the size of bully sticks. It is not easy to chew thick bully sticks whereas thinner ones get finished in no time. Hence, keep the width of the bully sticks regularly. If they are too thick, do not give them to small dog breeds. Also, it depends on how stronger are the jaws of your dog. Are they capable of chewing these thick bully sticks or not.
How to cook odourless bully sticks?
When cooked naturally, bully sticks still have a pungent smell that might not please your dog. In professional bully sticks making plants, they use chemicals to get rid of the smell. But you can't use chemicals as they can be dangerous for the dog's health. A quick and easy way to remove the odour is to place the bully sticks in the smoker for additional few hours. This will add a smoky texture to the bully sticks, and the dog will not sense any pungent odour.
Are dog bully sticks made at home safe for the dog?
The dog bully sticks made at home are a lot safer than those manufactured in mills. Most of the manufacturers add flavours and chemicals to enhance the flavour of the treats but when you cook them at home, it is 100% organic. No addition of extra substance and using just a single ingredient makes the bully sticks not only safe to consume but beneficial for health as well. Made from pure beef, the bully sticks provide a lot of nutrients to the dog's body.
Benefits of Homemade Bully sticks:
There is a long list of benefits of Bully sticks as they are 100% natural treats for the dog, and fat better than rawhide. But, these advantages are usually taken from those bully sticks which are made at home as they lack preservatives and flavours. Not only the homemade bully sticks provide the dog with essential nutrients, but also have many safety benefits. Let us have a quick overview of those benefits.
Homemade bully sticks are long-lasting dog treats as they are made up of organic ingredients.
They are one of the safest chew treats for dogs.
Usually, young puppies are not allowed to chew treats, but they can eat bully sticks, all thanks to the organic ingredients.
Fat content is quite low in bully sticks, as it is removed in the first step hence, it is beneficial for the dogs who are at the risk of getting obese.
It does not disturb the hormones of the dog also, provides essential nutrients including vitamins, calcium, magnesium, and protein.
The low cholesterol treat keeps the dogs away from multiple life-threatening diseases.
Unlike rawhide, bully sticks are safe to consume as they prevent the swelling in the gut but breaking down quickly in the stomach.
As compared to other natural as well as commercial chewing treats, the bully sticks digest faster.
Bully sticks have been proved beneficial for dental health. When a dog chews a bully stick, abrasion of teeth is caused. This not only saves the dog from building up tartar on the surface of teeth but also prevents plaque formation.
As bully sticks are made up of bull meat, it is all protein. No carbohydrates are present in its composition hence, the tartar build-up is prevented.
Non-beef bully sticks:
As we know, bully sticks are made up of pure bull meat. Hence, if we focus on the original word, "non-beef bully sticks", it does not make much sense. But here, it does not mean bully sticks without beef but, it means better alternatives of bully sticks. Although bully sticks are quite safe for your dog, some people still don't consider giving bully sticks to their dogs as a treat.  Some of these alternatives include chicken chews and carrots.
 When should you give your dog bully sticks?
Bully sticks are a great source of amino acids, and they quite good for the dog's coat, body, and brain. Usually, people give bully sticks to the dogs when they are planning to leave them alone as treats keep them accommodated. Now, there are some other conditions, in which gives your dog the bully sticks are beneficial.
It is important to maintain the healthy weight of your dog. Either the dog is underweight or over-weight, the bully sticks will help them do so. As, they are low in fat, and high in protein so, they promote muscle building.
If you are looking for a quality chew as well as an economical way to offer them to your dog, then making them at home is a brilliant idea.
If your dog does not have any allergy or sensitivity, then bully sticks are the best treats.
Most dogs have to face poor dental health issues at certain age hence, to improve the quality of their dental health, such natural treats are highly recommended.
Do bully sticks made by you taste good?
Many people think that as they don't add preservatives, chemicals, and artificial seasonings in the bully sticks while making them, this may cause a bad taste in them. That's not right! Not only the bully sticks are safer than traditionally made ones, but also they taste incredibly delicious and irresistible to most dogs.
Why do dogs love bully sticks?
It is in dog's nature to chew multiple things, let it be a treat or some other stuff. Bully sticks are one of those things. Not only it is about nature, but the dogs do them to get relief from their dental pains. But this is the case in younger dogs. The adult dogs want bully sticks to get rid of boredom, to have a good-quality treat, to deal with anxiety, and many more.
How often should a dog consume a Bully stick?
Excess of anything is bad! Although you will make the bully sticks with love for your dog or puppy, you have to keep a check on the diet as well. Despite the fact that bully sticks are quite nutritious, consuming a high-calorie food for the dog is not good. A single treat usually consists of around 88 calories, which is one-third of the dog's daily nutrition requirement. Hence, it is good to save your dog's favourite treat for special occasions.
 Bottom line:
Cooking bully sticks is not a fast process. As it takes several days, it requires patience and consistency. But the method is not that tough also, the quality is 100% natural proving that it is beneficial for the dog.