German shepherds are one of the most sought-after dog breeds, however, importing German shepherds can be a task and a half. You have to go through a couple of processes to be able to get that furball in your house. After going through this guide you can import your favorite GSD such as a DDR german shepherd.
But there is no need to stress over it when there is plenty of information available online. And to make it easier, we will walk you through everything that you need to know regarding importing German shepherds into the United States of America.
However, you should always include a professional in this process as all of this information is here to give you an overall idea of what to do.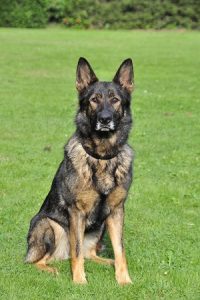 Things To Consider While Importing a German Shephard
Here are a few things that you should know before taking the plunge to get yourself a German Shephard in the United States of America.
Shipping choices: Domestic VS International
Although people usually opt for importing a German Shephard from another country rather than from another city, you can get yourself a German shepherd from within the country in an affordable price range. On top of this, the process will be smoother and much quicker – and as the animal lovers quote "it's the love that counts".
However, if you still opt for importing a German Shephard from another country, then you need to brace yourself for a lot of paperwork and a big fat check – but anything to get the pet of your dreams, right?
Shipping Risks That Are Involved
You can get a German shepherd flown into your own country but there are certain risks involved. Although, air travel is much safer for dogs now you should be aware of the involved risks and be wary of the consequences that can unfold if something goes wrong.
For example, you can lose your pet because of the negligence of the airline staff. Or your pet can suffer from vomiting and low ventilation during the flight causing trauma which can live with them for a long time.
Find Good Breeding Company
Another important aspect of importing German shepherds is to look for an impeccable breeding company that can cater to your requests. You should look at their online footprint – website or any other social media handles and read their reviews. For example, RoyalAir breed one of the finest German Shepherds Dogs.
On top of this, you can also evaluate their shipping records and look for any reservations that you may have with their previous cases. A good and responsible company will make sure that the shipping is done with utmost care and responsibility so that your dog does not feel sick or suffocated during the flight.
A few things can make a good breeder stand out, we have listed a few down here.
| | |
| --- | --- |
| Qualities to look for in breeders | Explanation |
| Proper documentation | A responsible breeding company will make sure that its shipping record is available for its new customers. So that everyone can verify the cases. |
| Safety Guidelines | Your preferred breeding company should have proper guidelines regarding their safety guidelines for shipping dogs via air. |
| Legal requirements | Your breeding company should have all the legal aspects covered before getting the dog shipped. Because you do not want to have any loose ends that can end up taking a lot of your time. If you cannot figure out any foreign laws, it is better to opt for a local breeding company to ship your dog from within the country |
| Pet details | Your breeding company should provide you with all the details of the dog that they are importing for you. For example, their health issues and any other pertinent information that is important. |
Things To Ask Your Breeder While Importing German Shepherds
Once you have shortlisted a few companies that you will consider for importing a German shepherd, you should go through the following questions that you should ask the breeders before jumping the gun.
Process of Importing
Now, this is a given and definitely the first question that you should ask your breeder about. For example, will they deliver the German shepherd to your home, or will you have to clear it on your own from the customs?
Ideally, they should take care of the customs to make it easier for you as a client. However, if the breeders require the client to pick up the dog, then ask them for complete guidelines before looking like a fool at customs!
Shipping Eligibility
Although the world has transformed into a global village you still have to cover the distance physically to get somewhere. Similarly, not all breeders ship worldwide. And even if they claim to do so, your country or state might not be on the list.
You probably don't have to worry if you live in New York but if you are somewhere in Illinois – then it is better to check beforehand.
The health of the dog
The wise used to say, "health is wealth" and it is the most reverent fact that someone can tell you. You can import the most handsome German shepherd, but if the dog is not healthy, all that effort will go to waste.
So, you should ask the breeders about the health of the dog. On top of this, check for vaccinations and hip and elbow certificates – to make sure the dog can fly without any problems.
Shipping Requirements
And lastly, you should ask for complete details regarding the shipping of the dog. For example, which crate will the dog travel in. or how many hours will it take for the dog to reach its destinations. And whether the dog will be comfortable throughout the process.
You may be able to import a German shepherd from a cheaper company, but do not make the dog suffer for the sake of your money. instead, go for the most responsible company so your German shepherd can be shipped without any hassle.
How Much Will It Cost to Import a German Shepherd (USA)?
The cost of importing a German shepherd will entirely depend on what type of pedigree you choose and how and where you get the dog shipped.
However, a well-bred German shepherd will cost around 2000-4000 dollars plus the shipping costs to be imported into the United States. On the other hand, a local breeder can get you the same dog for around 100-500 dollars.
So, you will have to make the choice between importing the dog from an international breeder or just get it locally.
Factors That Impact the Price of Importing German Shepherds?
Although we have listed a roundabout cost of what you need to pay to import a German shepherd. But some aspects can impact the overall cost. We have listed a few of them below.
The Pedigree of Your Dog
A proper sketch of the pedigree of a dog can add up to the cost of adoption and shipping. On the other hand, if there is no proper paperwork for the pedigree then the breeder cannot quote a lot. For example, if the dog is purebred then the price would be higher.
Genetic screening
Just like other health tests, some purebreds are taken for genetic screening to check them for genetic predisposition. So, if the dog that you are importing has been tested for such things – the price will go up by a few hundred dollars.
To Sum It All Up
Importing German shepherds sounds intimidating but all you need is to get hold of a good breeder and a shipping company. Once you shortlist the company, make sure that the German shepherd is shipped properly with complete paperwork.
If you do not have a lot of money to spare, you can get the German shepherd imported from within the country. But, if there are no inhibitions about money, Germany or the Chez Republic would be one of the best options.