Seresto is a pest preventive dog collar that keeps your dog safe from fleas but is Seresto collar making dogs sick?
We all are protective of our pets and want to keep them safe from any possible danger. Amongst other threats, dogs getting fleas is one of the major concerns that bother dog owners.  Dogs can get pests from anywhere and these fleas can bring skin allergies, intestinal worms, itch, and many other horrifying diseases to your dogs.
People go to extensive lengths to protect their pets from fleas. Seresto collar is one way to protect your pet but is a seresto collar making your dog sick?. This question raises many concerns about your pet's safety and is needed to be addressed on serious notes. Let's have a read if the seresto collar is actually making your dog sick.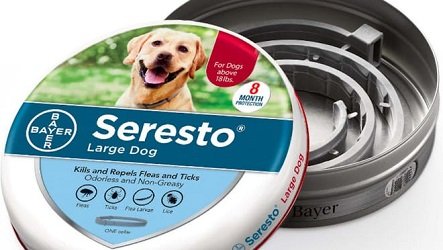 What is a seresto collar?
Seresto collar is a collar for your pet that releases imidacloprid and flumethrin to kill the pests near your dog. These ingredients keep your buddy safe from pest attacks. Unlike other collars,  Seresto does not release powder on the skin instead it gets absorbed in skin oils. Imidacloprid affects the pest's nervous system whereas flumethrin repels them.
Putting seresto collar on dogs ensures safety from pests but the question remains the same if it's safe also?
Is a seresto collar making dogs sick?
Seresto collar claims that it keeps fleas away. The ingredients are released and absorbed in skin oils to spread on the skin and work effectively.
The EPA report says that seresto collar has side effects like skin redness and hair loss but these are temporary side effects.
However, dog fatalities have also been reported as a result of using seresto collars. Although the rate is comparatively very low as compared to side effects from other pest control collars.
More than 1500 possible fatalities of sersto pet users and 3500+ other incidents of experiencing side effects were reported. Dog owners are scared because no one wants their dog to be amongst that 0.00006% of overall seresto users who died because of seresto.
Reports claim that pesticides in seresto are absorbed in skin oil so they don't affect a pet's internal body organs. Most dogs died because they ingested seresto collars. So safe handling is requested to ensure minimal damage.
Can a seresto collar making dog owners sick?
Dog owners are advised to handle seresto collars carefully. According to EPA reports,  seresto collar doesn't affect humans.  It can cause skin rashes but it doesn't cause any serious allergic reactions. Children must be kept away from dogs for one day who have started wearing the Seresto collar.
The counterfeit products
There are reports of sellers,  selling fake seresto collars. Relying on online shopping is not a wise choice especially when the safety of your pet is concerned. We all are well aware of deception through online shopping. The counterfeit product looks like the original but works adversely. Always buy a seresto collar from a trusted buyer or your veteran.
How to spot fake seresto collars?
Seresto collar was designed to keep your pet safe but with counterfeit products the safety becomes questionable even from the product itself. Many side effects were reported from the seresto collar but no one is sure if it's from a genuine seresto collar or a fake one.
Here are few tips which can help you to spot a fake seresto collar.
Don't fall for a low price. People usually buy seresto from online retailers because they offer low prices than originals.
Carefully check the packaging. Although the fake ones have similar packaging but there is always a difference. The original will be well packed and seal protected. You will also see a barcode on the tin.
Original seresto collar packing will always show the expiry date on the back of the tin whereas the fake ones don't show the expiry date anywhere on the packaging.
The lot number on the collar matches the one on the tin packing in an original collar.
Instead of foil packing the original collar comes in see-through plastic.
The active ingredients are written on the original packing.
You will see that Logo is printed on the original collar.
Always be careful before buying Seresto collars for your dog because a fake product can be dangerous to your pet. Saving a little while buying a seresto collar for your dog can cost you heavily later on.
Are seresto collars toxic?
It depends. Definitely ingesting pesticides is not a good idea at all. Seresto collar has active ingredients imidacloprid and flumethrin and they both kill and repel pests. However, EPA reports say that there are no significant side effects of these two pesticides "Mixed together ". They both work in a different chemical ways.
As these ingredients don't absorb into the bloodstream so there is no danger to health as such.
However, your dog can show the following symptoms
Redness in skin
Hair loss
Upset stomach including vomiting and diarrhea
Loss of appetite
Consult your veteran if your pet is experiencing any side effects.
Is seresto better than other collars?
Well,  seresto is better in a way that it doesn't only kill fleas,  it repels them also. This is a competitive advantage that makes Seresto a better choice. So dogs who go outside are in better protection with Seresto.
Seresto facing legal issues
After the link of pet fatalities to seresto collar,  the legal petition was signed against seresto.  Many animal rights activists also demanded a ban on seresto collars. EPA has decided to look into complaints but has not issued any document regarding those complaints yet.
Since there is no scientific proof against seresto collar, Seresto collar is not facing a ban. However,  there is a visible discomfort amongst pet owners.
What is the substitute for seresto collars?
If there are side effects after using a seresto collar, there is a possibility that other pest control collars will show the same effects on your pet. Most side effects go away when you remove the collar from your dog.  But if not seresto then what? Well,  try oral alternatives for your dog or consult your veteran.
Should your dog use a seresto collar?
Yes!  Definitely.  The risk of damage from pest diseases is far greater than the side effects of using a seresto collar.  Pests can bring serious health damage as compared to preventive collars.
We also suggest that, if you love your pup and want the best for it,  use a seresto collar. The dog shows symptoms within hours of using a seresto collar so there is always an option of removing it.