The Pet food industry has seen a boom in recent decades. There were times when dogs used to eat whatever they found. With the growing civilization of human beings,  their best companion was also groomed up to the level where they had separate food to eat.  Ken L Ration dog food was amongst the pioneers who introduced canned pet food.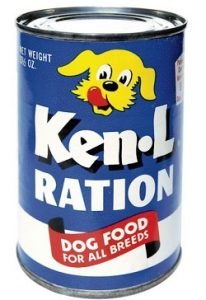 The History of Ken l Ration Dog food
In past,  dogs were not treated with this care and love as they are now. When dogs earned the title to be man's best companion,  they earned certain perks too. Dogs used to eat the food leftovers or other dead animals before this. When humans took dogs as their mates,  they treated them in a special way.
Dog food was first invented in the 18th century by a man named James Spratt. James was an electrician. Just as a single apple hit newton differently, an idea struck James and the world was introduced with pet food. James observed dogs eating food leftovers near a riverbank. He got the idea that there should be pet food that can be fed to dogs and preserved for a long time.
However, James never told the world about his secret recipe for dog biscuits. He was a clever person who marketed dog food well and even modern-day marketing strategies have evolved from his techniques to sell dog food.
During world war 2, the idea of canned food surfaced. Here comes the innovative dog food company who was the first to introduce canned food for pets.
Where was The Meat Coming From In Ken L Ration dog food
It was a popular brand in the 1900s. Unlike James biscuits ingredients which remained hidden and no one knew except him that what meat was used in them. They used horse meat as the main ingredient which was cleverly advertised as "lean red meat". The idea of canned food,  led to the slaughter of thousands of horses every year.
Ken L Ration's dog food ingredients were cleverly wrapped up and mentioned at the bottom of the package. So that they didn't raise eyebrows about where they would get this meat from?. And about meat quality and whether it's pet grade or not?. They had a very strong marketing campaign too which gained massive popularity.
Back then, when there was a boom in a pet food market, this canned food had a monopoly in a dog food market. They adopted marketing techniques to reach customers and were very famous. As this food was government-approved so definitely it created that level of trust and gained the customer's loyalty.
This canned dog food was widely purchased at that time and is still known for its best marketing campaigns. Quaker oats company bought Ken L ration dog food in 1940.
Marketing strategies of Ken L ration
This dog food had become a big brand and it had two advantages which led to the massive sale of its products. First, they were the pioneer who introduced canned food, and secondly, they designed marketing techniques that attracted customers.
This dog food is still remembered because of its jingles that were catchy and attractive. They made their way direct to customer's hearts and give them a sense of belonging to pets and their food.
One of the famous strategies of the brand was how they introduced Ken L burger dog food and advertised it as a better alternative to hamburger. Also,  the Ken L ration song lyrics "My dog is better than your dog" were on everyone's tongue.
They also held a special public place due to their noticeable media presence. They had an affiliation with Disney and had their own sponsored show too.
Further, the company also held a regular award ceremony "Ken L ration dog hero" for brave dogs. Their excellent public presence and ability to connect with the general public were impressive.
Is this dog food still made? 
For the greater part,  NO! but what led to closing the production of Ken L ration dog food?. Why despite being so popular, the business closed its production.
We have seen many prime examples in history about how monopolies went down and how competitors acquired the market. The basic idea of this dog food was of "canned food".
The canned food idea surfaced during the second world war where the food was needed to be preserved for a long time. After the second world war,  dry dog food became popular again in the market, and kibbles were introduced which led to Modern day dry kibble dog food. They acquired the market and are popular till now. Ken L ration food makes one or two canned products that are available online.
(You may want to read our articles taste of wild for senior dogs and sprout dog food)
Is Ken L ration dog food still available?
Well, the name was something back then. It still hasn't lost its charm and people want to buy this dog food.  You still see people asking "where can I buy Ken L ration dog food?. "
Although the Quakers oats company sold the patent name to Heinz co. in 1995, where it didn't go well. The food is not produced anymore.
But still, I have seen this canned dog food sold online on websites under the "vintage dog food" category. There are also cookie jars with the face of the same yellow dog as it was on a can of Ken L ration. Retrobrands USA LLC  now holds the trademark of this famous dog food.
What failed this dog food?
Well,  what happened to this once-successful venture? Why they faded away?  Maybe they needed to change quickly than anticipated. The dog food patent was sold to a company that didn't act on time. General mills limited were the first one to introduce kibbles. Innovation had its own advantage but one has to improvise modern-day changes.
General mills won in a way that they brought a new competitive idea which hit the target market with more strength than the canned dog food offered by Ken L Ration.
Maybe this was the war of "opportunists" and stills James holds the credit for the main idea of introducing dog food. When the company saw the opportunity to canned food,  they came in and conquered. When General mills got the same chance they took it with kibble production. Let's see what the market still holds for future revolution and innovation.  Only time will tell!