Having a dog as a pet is one of the most lovely experiences. Dogs are the friendliest and easy-going pets but there are certain aspects that you must take care of. But besides love, dogs need utmost care and protection from various infections and health issues. Medicines like trifexis are most commonly used but factors like availability and cost often become a hurdle.
If you are looking for alternatives to 'Trifexis' you have landed at the right place. But before we give you the substitutes, let's enlighten you about the medicine.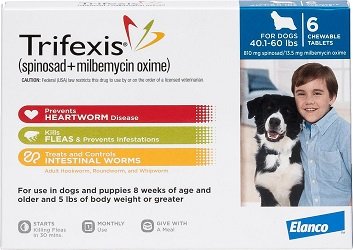 DOGS AND DISEASES
The faithful four-legged animal is prone to several diseases and it is important to get timely vaccinations and regular check-ups done by the vet. Infestations like fleas, ticks, heartworms, and hookworms are common in dogs that bond them down. These infestations lead to severe problems like Lyme disease, Rocky Mountain Spotted fever, Bartonella, Anaplasmosis, Ehrlichiosis, heart failure.
Problems like these must be addressed timely in order to ensure a long and disease-free life for your pet. Fortunately, many people are well aware of the preventive measures; one of which is Trifexis.
TRIFEXIS AND ITS USE
The Trifexis is a chewable tablet that is used to kill all the parasites likely to affect animals. These tablets are a combination of 'Spinosad' and 'Milbemycin Time' that work in harmony to treat and kill all the parasitic problems. Trifexis is flavored tablets that protect animals against fleas, heartworms, and intestinal parasites like hookworms, roundworms, and whipworms.
Trifexis contains two components: 
Milbemycin

: The Milbemycin oxime present in Trifexis kills the heartworms in the blood of dogs as well as kills roundworms and whipworms.

Spinosad:

The 'Spinosad' terminates adult fleas before it lays eggs. Just like Milbemycin oxime, Spinosad also eliminates parasites' nervous systems.
It has been proven that Trifexis kills all adult fleas within 4 hours due to the combined action of both Milbemycin and Spinosad. These amazing tablets are recommended for dogs that are of 8 weeks of age and have a weight of 5 pounds. There are very few side effects of this medicine that includes vomiting but this side effect is mostly seen in dogs that are younger than 14 weeks. 
ALTERNATIVES OF TRIFEXIS:
Often pet owners find Trifexis expensive while sometimes it is simply not available. But before your fret, have a look at these alternatives: 
1- Sentinel: Just like Trifexis, Sentinel also contains Milbemycin oxime that kills hookworms, roundworms, whipworms, and heartworms as well. These are also chewable tablets and cost 5$ less than the cost of Trifexis. These Sentinel tablets can be given to dogs that are of 4 weeks of age whereas Trifexis can be given to 8 weeks old puppies.
Similarly, Sentinel can be administered to puppies that are 2 pounds in weight whereas Trifexis can be given to 5-pound puppies. The drawback of this Sentinel medicine is that it does not kill adult fleas whereas Trifexis kills all the fleas and flea eggs within 4 hours. The chewable medicine also causes vomiting, the same as Trifexis.
2- Sentinel Spectrum: This medicine is an overall product that contains milbemycin and lufenuron as well as praziquantel that give all the benefits of Sentinel along with tapeworm infection prevention. This medicine is given to pets on a monthly basis and is considered ideal for puppies of 6 weeks of age. This medication can be given to dogs along with meals so that it gets absorbed properly and with ease. 
3- Heartgard Plus: This amazing medicine is also a flavored and chewable pill that helps in killing roundworms, hookworms, and heartworms. This medicine grants complete protection against diseases that can be caused by intestinal worms. The two ingredients, Ivermectin and Pyrantel, act as powerful agents in eliminating immature heartworms as well as control all the infections related to intestinal worms.
Heartguard Plus chewable medicine is a brawny defense against two very common parasites that affect pets the most. It protects against fleas, heartworm infestations, and intestinal worms for up to 1 month as well as protects the animal against ticks which Trifexis does not.
4- Nexgard: This pill is also a chewable and flavored medicine that provides ultimate protection against intestinal worms and heartworm infestations. This medicine also helps in getting rid of ticks and Trifexis lacks in this. This is an oral treatment and has a beef flavor that makes it palatable for pets to consume easily. This pill can be given to puppies that weigh up to 11 kgs.
NATURAL ALTERNATIVES OF TRIFEXIS:
Many pet owners are now opting for natural alternatives for their pets. This is a cost-friendly approach as well renders no side effects. Luckily, there are some natural alternatives to Trifexis as well that have been proven to work wonders on the dogs.
Here, have a look:
1- Garlic and Brewer Yeast: Want to keep away ticks and fleas? Use garlic as it is considered an appreciable ingredient in warding off ticks and fleas. When garlic is given to pets for 2 weeks, it creates a pungent smell that keeps away fleas and ticks. But avoid giving too much garlic to dogs and cats as that can be toxic for them and cause certain harmful effects. Similarly, Brewer yeast is an antioxidant that helps in keeping dogs healthy by protecting them against serious health problems.
2- Raw Apple Cider Vinegar (ACV): Raw ACV works amazingly if you add it to dogs' water bowls or simply spray them on their skin or fur. It not only repels fleas and ticks but also improves arthritis, improves digestion, helps UTI, improves fur, clears skin from bacterial infections, makes dogs less attractive to biting insects, prevents food poisoning, relieves muscle fatigue, and itching. It would be best to spray raw ACV on dogs when going outside for longer periods.
3- A mixture of Diatomaceous Earth, Neem Powder, and Yarrow Powder: Make a mixture by mixing all these powders in equal amounts and apply on the dogs' skin. The hair of the dog should be combed and this mixture should be applied directly to the skin. This profounding mixture is non-toxic as well as repels fleas and
ticks. This natural product not only saves money but also saves your animals from any harmful side effects of chemical-based flea repellants. This powder can be applied on monthly basis.  
FINAL VERDICT: 
Who doesn't want to provide the best healthcare to their pets? Choose between the list of medicinal and natural Trifexis alternatives and take the right step to ensure the health of your dog.