Are you one of those parents who offer their dog whatever is easily available? We are sorry to tell you that you are unjust with your little companion. As high-quality foods are important for the proper nourishment and well-being of a dog. So a duel post for Purina Pro Plan vs Science Diet is a must.
Among the wide range of products, Purina Pro Plan and Science Diet are on the hit list. What will one do if he has to pick one? Which one's better? What's the difference? Hold on! Here, we are going to do a detailed comparison between Purina Pro Plan vs. Science Diet and we hope, at the end of the article, you understand everything you want!
| | | | |
| --- | --- | --- | --- |
| | | PET FOOD TYPES | |
| | Product | Purina Pro Plan | Science Diet |
| | Dog Treats | 4 | 15 |
| | Wet dog food | 66 | 34 |
| | Dry Dog Food | 44 | 42 |
| | | | |
| | | CRUDE CONTENT PERCENTAGES | |
| | | Dry Dog Food | |
| | Crude Content | Purina Pro Plan | Science Diet |
| | Fiber | 4.4% | 3.9% |
| | Fat | 17.9% | 14.7% |
| | Protein | 31.8% | 24.7% |
| | | Wet Dog Food | |
| | Crude Content | Purina Pro Plan | Science Diet |
| | Fiber | 7.2% | 3.5% |
| | Fat | 16.9% | 17.3% |
| | Protein | 47.1% | 25.7% |
| | | NUTRIENT COMPOSITION | |
| | | Science Diet | |
| Criteria | Protein | Fat | Carbohydrates |
| Weight in calories | 25% | 41% | 34% |
| Dry matter | 30% | 21% | 42% |
| Guaranteed analysis | 30% | 21% | NA |
| | | Purina Pro Plan | |
| Criteria | Protein | Fat | Carbohydrates |
| Weight in calories | 25% | 38% | 38% |
| Dry Matter | 30% | 18% | 44% |
| Guaranteed Analysis | 26% | 16% | NA |
| | | STOCK AVAILABILITY | |
| | Seller Stocks | Science Diet | Purina Pro Plan |
| | Walmart | 35 recipes | 140 recipes |
| | Pet Flow | 91 recipes | 75 recipes |
| | Amazon | 119 recipes | 144 recipes |
| | Chewy | 129 recipes | 158 recipes |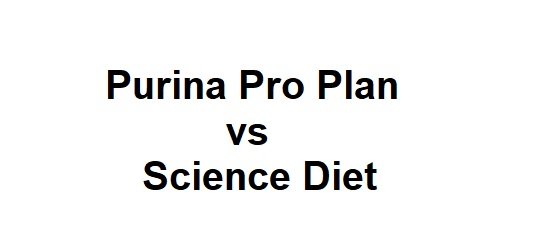 History of the food brands:
Purina Pro Plan:
Based in St. Louis, Missouri, there is a food company named Nestlẽ Purina Petcare which manufactures Pet meal enhancements, pet foods, and treats. Among a lot of its famous brands, the Purina Pro Plan is the most effective one as it takes care of the dog's nutrient requirements.
What's more exciting? Purina Pro Plan is the first food brand, who has used real meat as the first ingredient. The thing I'm exaggerating? Nope! The food brand also manufactured some sports performance and grain-free formulas. Research has shown that out of 100 competitive dogs, 96 of the winners consume Purina Pro Plan. Now, in the present year, guess which is the second-largest dog food company in the world also, the number 1 company in the US? Purina it is!
Science Diet:
In 1939, there was a dog named Buddy suffering from kidney disease and was owned by a blind man named Morris Frank. Well, he reached a vet for the treatment of the dog and the vet told him that it was all due to poor diet also, that he had formulated a diet in his home kitchen along with his wife that is good for dogs and can treat the Buddy as well.
Later on, the doctor contracted with the owner of Hill Packaging Company, Burton Hill, in 1948, and gave a new name, Canine k/d, to its food. The company was licensed to manufacture the dog's food using Dr. Morris's Formula. Finally, in the year of 1976, the Colgate-Palmolive Company asked to purchase Hill's Pet Nutrition and that went well.
Now, most vets recommend the pet owners this dog food due to its fine quality. In 1999, the company earned around $1 billion, and the sales have been increasing since now. More and less, the product is available in around 86 countries of the world. Not only for kidney diseases but 50 different kinds of products are available for multiple diseases.
Nutrient Composition:
Purina Pro Plan:
According to the provided guaranteed analysis of the nutrient composition, Purina Pro Plan contains 26% of proteins, 16% of fat, and well, a below-than-average amount of carbohydrates. Moreover, the Pro Plan dry matter recipe includes 30% protein, 18% fat, and 44% of carbohydrates.
However, if we calculate the weight in calories, 25% of the calories are given by protein, 38% by fats, and 38% by carbohydrates. The fat-to-protein ratio of the Purina Pro Plan is around 52%. In short, the Purina Pro Plan has a more than average amount of protein, below average carbohydrates, and almost average fats.
Science Diet:
Ingredients like Sorghum, Corn, Wheat, cracked pearled barley, and Chicken tries to fulfill the nutrient requirements of the dog. The Science Diet's wet dog food contains soybean meals, gluten, corn, flaxseeds, and peas, but still, the product is a little below average. This formula gives a total of only 25% calories from proteins but 41% calories from fat. Hence, the formula is not suitable for every dog out there.
However, if we have a look at the Science Diet's dry dog food, it contains 21% of fat, 30% proteins, and 42% carbohydrates, which is much better. So, generally, the Science Diet food products consist 42% of carbohydrates, 21% of fat, and 30% of proteins. Not bad! The fat to protein ratio would be 69%. So in a nutshell, it is above-average carbohydrates, below-average fats, and almost-average proteins. 
Advantages:
Purina Pro Plan:
The company conducts long-term studies on its products.
Prevents musculoskeletal diseases due to the presence of glucosamine and probiotics
Improves vision and brain development, all thanks to the fish oil
Prevents bad breath
Cleans the tartar from gums
In January 2019, the elemental probiotic specified for canine behavioral change was introduced by calming care. You must have seen a lot of digestive probiotics, but there is no behavioral one other than these
Easily affordable
Long-term studies for better research by the company
Veterinary nutritionists recommended
Good nutrient composition
Competitive among all the food brands
Helps in passing solid and healthy stools
Stringent quality control
Does not include dyes or artificial colors
Free from bulk fillers like grains, wheat, corn, etc.
Do not cause any allergic reaction usually
Recommended by most of the vets
Science Diet:
A popular brand for years
Easily available in pet stores also, you can shop online
Cost-friendly- affordable
Dog food is available for both small and giant dog breeds
Offers both, wet and dry dog foods
Dog food is balanced with all the important nutrients including glucosamine, chondroitin, calcium
Good for joints and bones development especially for large dogs
Scientifically developed formulas
A vast variety of dog food
A good history of quality and hygienic food
A wide range of recipes according to medical conditions, life stage, and breed size
Veterinary nutritionists work on it
High-quality kibbles
Extensive research before manufacturing
Contains human-grade ingredients hence, recommended by vets
Promotes jaw development, thanks to the rough texture of crunchy meaty kibble morsels
Disadvantages:
Purina Pro Plan:
Kibble bits are more suitable for large and older dogs whereas, they may be difficult to consume for tiny dogs
Brewers rice may not benefit the sensitive dogs at all no matter how many calories do it provides
Breath odor can be affected a little bit
Persnickety dogs tend not to like some of the Purina Formulas
Science Diet:
Dogs that are sensitive to grains can show an allergic reaction if they consume grain-filled dog recipes
Non-meat ingredients are used to increase the protein content
Some by-products are used in its manufacturing
The protein content is less as compared to other competitors
The minerals included are not chelated so, non-chelated ones are difficult to absorb
As it is produced after biologically based nutrition and a lot of scientific research, it may be expensive than some.
Purina Pro Plan vs. Science Diet Recalls:
Purina Pro Plan:
March 9, 2016: Incorrect Vitamins and Minerals
Science Diet:
Jan. 31, 2019: elevated levels of Vitamin D
March 20, 2019: elevated levels of Vitamin D
Purina Pro Plan vs. Science Diet Price:
Purina Pro Plan:
The Purina Pro Plan is going to cost you a less as compared to Science Diet. But this is the case only for dry food. As moisture decides the price of the dog's food, there is a significant gap between the price of wet and dry Purina Pro Plan food. Hence, the Purina Pro Plan Dog's wet food cost is more than that of Purina Pro Plan dry dog food.
Science Diet:
Science diet is a bit expensive than Purina Pro Plan due to its in-depth scientific research. Whereas, the price of Science Diet wet food is higher than that of dry Science diet dog food. You can buy both of the products at Chewy, Amazon, Walmart, and Pet Flow.
Comparison of Crude Protein in both food brands:
Dogs need 22 amino acids in their body. When the 10 essential ones are consumed, the rest of the 12 are produced which means, proteins are quite necessary for the dogs. Well, Purina Pro Plan contains a bit more proteins than that of the Science diet- the difference is 7%. Similarly, even the wet dog food of Science Diet contains lesser protein.
Comparison of Crude Fat in both food brands:
Fats are also quite essential for the dog's proper growth and development. In both the dog food brands, the fat content is approximately similar. The difference is only 3.18% which is more in Purina Pro Plan, but such difference is negligible. About wet dog food, Purina Pro Plan contains 3.67% higher fat content than Science Diet which is also fine.
What about grain content?
Just like all the competitors, both brands produce grain-containing products as they promote fiber and protein content. But besides the fact, both brands have their specialized grain-free formulas as well. So that, if anyone's dog is suffering from intolerance, sensitivities, or allergies, it can consume the grain-free variants.
Are there any risky ingredients in both of the food brands?
Two kinds of ingredients can be considered risky when it comes to dog food. One, which is harmful and can show negative effects on the dog's health, and second, those which are controversial.  Let us have a look at the present in both dog food brands!
Harmful Ingredients:
Menadione sodium bisulfite complex
Menadione
Controversial Ingredients:
Soybean protein isolates- It is linked to cancer in those dogs which are suffering from any kind of liver, heart, kidney, or thyroid disease.
Powdered Cellulose- Usually, the quality of Powdered-cellulose is compromised in dog foods, which leads to inflammations and shedding.
Whole grain corn and whole-grain wheat- Some of the dogs are allergic to these ingredients even though they possess a lot of nutritional value.
Cornmeal- It is an ingredient that is hard on some of the dog's stomachs as it is difficult to digest.
Caramel Coloring- Artificial coloring can have adverse side effects on a dog's health, worse scenario, cancer.
Gluten- It can cause seizures and osteoporosis due to interfering in the absorption of other nutrients.
Brewers Rice- It can cause skin eruptions and diarrhea due to allergies.
Pea Protein- They contain 25% of proteins although they are a good source of carbohydrates.
Liver– It is not mentioned that from where is the organ meat sourced which makes even this fact controversial that organ meat is beneficial for dog's health.
Similarities between both food brands:
Relieves medical issues and promotes healthy growth with their well-balanced formulas
Both food brands follow AAFCO standards.
Laboratory testing is quite common in both of them when it comes to food products.
Quality ingredients make both these brands average dog food producers on most websites.
Both brands use some of the nutritionally non-beneficial ingredients such as claws, beaks, or eggs.
AAFCO's packaging and labeling requirements are followed strictly by both brands
Pet owners love both the brands and suggest them to other pet parents
The manufacturing process of both brands is quite comparable
Both brands have highly regarded histories
Which one is better?
In our opinion, Purina Pro Plan is a better food brand as compared to the science Diet. Wondering why? Purina Pro Plan consists of higher protein content as compared to Science Diet. Moreover, the Science diet is quite pricy if we compare it to Purina Pro Plan, which also gives a plus point to Purina. Still not convinced? Not a problem! We never meant to say that Science Diet is less beneficial, absolutely no! Both brands have distinct features and benefits.
Bottom Line:
If you were looking for a better dog food between Purina Pro Plan vs. Science Diet, we hope you have gotten your answer now. Both brands have similar backgrounds, nutrients, and they professionally improve their products. Stick to your budget, and get your hands on the one which suits your dog more.