German Shephard dogs are one of the most confident and courageous dogs out there, that have a great sense of humor too. They are capable of being good in many sports and utilities, which make them very useful. They are also very loyal. Hence, they are one of the most popular breeds across the world. RoyalAir German Shepherds are producing one of the finest lineages of GSDs.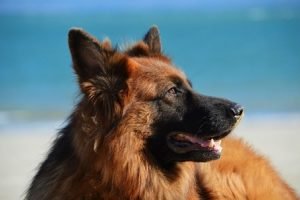 The RoyalAir German Shepherds Company
This dog breeding company is one of the few old-fashioned German shepherd breeding platforms. The breeding company has been operating for more than 30 years and is OFA certified that conducts DM tests on the parent dogs. Adding on, a genetic disease written guarantee is also provided to clients and a temperament guarantee.
The puppies being bred are socialized with other dogs and are raised in a family-like environment. Individuals are welcome to come to visit the breeding platform. They can see how well trained the parent's dogs are on a trip.
Embark DNA Health Panels
All the breeding dogs go through the Embark DNA health panels. This is to make sure the maximum number of tests are conducted on the dogs. The proofs and certifications are attached to the pages of the dogs on the platform.
Health of the Dogs
The Embark tests determine the health of the dogs. In addition, it also highlights the genetic history of the dog and potential genetic health risks. Some of the names of the tests include Multiple Drug Sensitivity, Hemophilia A, Canine Leukocyte Adhesion Deficiency Type III, CLADIII, Platelet Factor X Receptor, Scott Syndrome test, Day blindness test, Anhidrotic Ectodermal Dysplasia, Renal Cystadenocarcinoma, and Nodar Dermatofibrosis, and Degenerative Myelopathy, DM test.
Other Tests
Adding on, with respect to Embark DNA tests, good breeders like "RoyalAir German shepherds" tend to carry out a lot of testing. With respect to the German Sphered breed, it is important to conduct other tests firsts. Which are the tests that do not require DNA testing. Examples of this include cardiac, elbow, and hips and tests.
After which genetic testing can be done. It is also important to note that the presence of a gene, does not always mean a genetic disease. One gene mostly has no impact on the dog; hence, it should not impact the breeding of the dog. However, the offspring can be impacted if both parent's dogs have the gene. So that is something to take into account while breeding dogs.
Discounts Provided by The Company
The Royalair German shepherds breeding company also offers good and excessive discounts to some of its clients. To begin, military persons can get a discount of up to $200. This is a way to thank them for their service over the years and for risking their lives.
Discount for Pick-up
Adding on, the discount is also offered to clients that are willing to come to the kennel directly to pick up their dogs. This will save the company transport cost. Hence, in this case, customers are offered a discount of $200 too.
Shipping Puppies Via Airline Policy by The Company
The RoyalAir German shepherd's company has recently implemented a policy of not shipping puppies alone through airlines. This makes the puppies scared and prone to injuries. Hence, customers are advised to come to pick the puppies and fly them to their destination through the airline. In this manner, the puppies will not be alone.
Airline Seats
The puppies can be easily kept under the airline seat easily. This method has been tested by many people. However, delivery can be done for locations that are less than eighteen hours away from the RoyalAir German shepherd's company. The location of the company is in the middle of the US so this should not be a problem.
Puppy Nannies and Ground Shippers
Other than resorting to an airline or by road delivery, clients can also opt for puppy nannies. Puppy nannies can be hired to help out in the delivery process of the puppy. In this manner, the safety of the puppy cannot be doubted in any way.
Other than that, the company guides clients to not opt for ground shippers. Despite the fact that group shipment is cheap, it takes a long time for the puppy to be delivered. Which can make it very sick on the ground and once it arrives.
AKC Breeder of Merit
The RoyalAir German shepherd's company is one of the few breeding platforms that has been awarded the AKC breeder of merit. Meaning, it is one of the very few breeding platforms that is doing embark testing for around 190 diseases on dogs.
Quality Over Quantity
The company is said to be a breeder of quality rather than quantity. The dogs are considered oversize with respect to modern standards since they tend to have straight backs, wide heads, and a big bone. As a result, the dogs bred can become rescue dogs and will be highly obedient. They have brains and a great athletic build. RoyalAir GSDs pups pick up their ears at very early age.
Pointers For Size of Dogs by The Company
The company also provides pointers for dog size on its website. They go as follows:
Most of the time, breeders tend to exaggerate the size of their dog with 50 lbs. and some inches. This is important to keep in mind in order to avoid getting scammed.
The certificate that is vet certified holds no value if you are unable to call the vet. Hence, it is important to make sure you have access to a working number.
It is important to note that size may be important, but it holds no value if the dog does not have health, temper, and longevity. Hence, there should be more focus on these factors while breeding dogs, rather than focusing on size,
Stay away from breeding platforms that do not let you see the breeding dogs. That means they are hiding something from you.
Always look for proof of OFA testing. It is not provided to you, which means that the tests were never done. As there is no point in hiding the test certificated else wise.
About OFA
OFA is short for Orthopedics Animal Foundation. This foundation registers the hips and elbows of dogs, as well as any potential genetic diseases. This foundation is helpful for breeding companies, as their tests can assess the dogs used for breeding. As a result, clients can trust the platform. Due to this reason, RoyalAir German shepherds use OFA testing and certifies their dogs based on that.
 AKC And Dog Registrations
AKC and UKC are the only breeding industries that cater to DNA programs. Hence, customers should be aware of fake ones like the American pet registry, and other related organizations. These are mainly for mill breeders.
For example, some programs register non-German shepherds' dogs like a German shepherd for mill benefits.
Reviews By Customers
The website has good reviews and testimonials. They have been called amazing breeders by the customers. A person got their dog bred from their platform, and the puppy was great. He states that the breeding dogs are raised well, hence, their offspring are healthy too. They have extensive contracts and come with health guarantees. The name of her dog is Vegas, she is 11 years old, and weighs 75 lbs.
Another customer had similar things to state. His dog is friendly, loves to play outside. He is 29 inches tall and weighs around 98 lbs. And is only one 1 year old. Other than that, all the reviews boasted about their extensive testing system and the good health of the dogs.
Links To the Breeding Dogs
The website of the RoyalAir German shepherd's company provides links for potential dogs for breeding, which go as follows:
Link to Panda and Skyler
Panda and Skyler were born on July 28 and are excellent dogs for breeding and obtaining puppies for clients. Panda is black and tan in color, while Skyler is white in color. Videos of these can be obtained by contacting the website, and their health certificates can be obtained as well.
Men of RoyalAir 
These are German shepherds that are old-style. They come with straight backs, have big heads, and laid-back personalities. They have an average weight of 145 lbs. and live three times the life of a fox. The dogs have been tested genetically and are obedience titled. Hence, they are perfect dogs for breeding and obtaining puppies.
RoyalAir's silver struck
This dog for breeding has good hips and normal elbow size. He is three years old, has a height of 30" +, and weighs 120 lbs. His pen to hip size is good, as it falls under the 90-percentile group. The premium elbow size is normal.
RoyalAir's captain copper sully
Her pen to hip size is good, the OFA elbow size is normal, and the elbow DM is normal as well. He is 18 months old, has the height of 29 inches, and weighs 118 Ibs. Which means he is underweight. He is also a soft and lovable dog, that is very easy to train.
RoyalAir's Silver Saber
He is a rare black and silver dog, that is also large. He has a loving temper, good OFA hips, and DM elbow is normal. He is also very smart.
RoyalAir's true freedoms logan
He is a freedom son that has good OFA elbows, his elbow DM is normal, and is a super sweet dog.
Link To the moms of RoyalAir
These female dogs require a lot of love and attention. They have all the genetic tests done, and the certificates can be received from the website. They have a lean weight due to being female. So, they weigh around 10 to 20 lbs. They have a high temper, which is different from their male counterparts.
RoyalAir's black Jetta of the stone hill
According to her OFA tests, she has normal elbow size, her DM is normal, she has medium energy, and has a good height of 26 inches. Adding on, she weighs 85 lbs., which means she is skinny. Lastly, she is 2 years old and a well-mannered dog.
RoyalAir's silver rose
Silver rose has a normal elbow DM; her hip size is good. Adding on, her elbow to hip ratio is also good and she is a rose outcross female dog. She is also very tall and comes with an amazing height of 28 inches. In addition, the dog is also calm, laid back, and friendly.
RoyalAir's Pandamonium
She has a good OFA hip and elbows size, and her DM is also normal. Adding on, her height is 26 inches, and she comes with a weight of 92 lbs. She is a wonderful dog with and medium temper.
Royal Air's great eclipse of saber
According to her OFA test, her DM is normal. Adding on, she is a sweet and calm dog that is very large. She comes with a height of 28 inches and weighs 110 lbs. She is also 2 years old and is called Ella mostly.
To Sum it All Up
In laymen terms – the RoyalAir German Shephard company aims to provide the best and healthiest breeding dogs for your future puppies. The company regularly carries out embark DNA tests and asses the health of the dogs. It has access to some of the healthiest dogs for breeding, and also provides delivery as well as discounts. Delivery can be done in various ways; the company is ready to accommodate.