YES! Vegetable soup is quite nutritious for our four-legged buddies. It is nourishing without adding a lot of calories and is high in healthful vitamins, minerals, and digestive enzymes. And dogs adore it! Dogs love vegetable soup, whether it is warm or cold, as a solitary meal or as a tasty food topper. The best part is that it is also simple and inexpensive to create! So lets clear more about can dogs eat vegetables soup or not?
Dogs, like humans, have straightforward stomach anatomy and  require a range of organic foods and nutrients to maintain a healthy diet. Veggies include fiber, minerals, antioxidants, enzymes, and phytonutrients that meat does not. It is critical to feed your dog a variety of veggies since each type contains a unique set of nutrients and what better way is there, than a vegetable soup.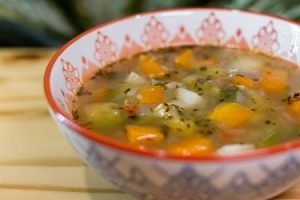 Soup for Sick Dogs
Some owners like to vary their dog's diet now and then. For example, you can serve your dog vegetable soup as a delightful surprise or if they require special food due to medical reasons. It is usually preferable to prepare these meals from scratch rather than utilizing canned or boxed goods. Almost all packaged goods include potentially harmful ingredients. Just like humans, you may need to feed soup to your dog if he is suffering from a medical condition. Colds, digestive issues, vomiting, diarrhea, or difficulty digesting, or consuming solid foods are examples of this. Dogs are also affected by the winter flu. As a result, vegetable soup could be a decent substitute for dog food and is also beneficial if your dog is suffering from intestinal troubles.
List Of Vegetables Healthy for Your Dog
Here is a list of vegetables that are healthy for your dog:
Vegetables can be a good addition to your dog's health if you stick to those that are safe and hand out an appropriate amount.
Carrots – Raw and cooked carrots are healthy for dogs. Carrots are loaded with vitamin A and K and are good for the eyes and lungs.
Sweet potatoes- are great for digestion because of dietary fibers and are rich in vitamin A, B, and C which prevents blindness.
Pumpkin- Raw and cooked fresh pumpkin has many benefits for them like intestinal health.
Cucumber- is a good and high source of water content, it helps dogs in hydrating their bodies.
Broccoli- is high in fiber and vitamin C and is good for digestion.
Green beans- green beans are high in vitamins and minerals like iron, calcium, and vitamins B6, A, C, and K. Green beans are also low in calories and high in fiber, which can help dogs feel satisfied.
Cabbage- Dogs can eat cabbage, albeit it may create a gassy reaction. It contains vitamins B1, B6, C, and K, as well as a plethora of phytonutrients. These are antioxidants that benefit both canines and humans who consume them. Red cabbage is also a good option for dog owners who want to increase their pet's fiber, manganese, copper, and potassium levels.
Cauliflower- Cauliflower is safe to eat in little amounts. It, like the other cruciferous veggies on our list, can cause gas. Cauliflower, which is best served lightly cooked, contains vitamins B, C, and K, as well as omega-3 fatty acids, which are all beneficial to the immune system.
Vegetables can make a delicious treat for your dog. Try some of the approved vegetables to see how they can benefit your dog.
Recipes Of Vegetable Soup for Your Furry Friend
Now you can use the aforementioned vegetables for making delicious vegetable soup for your dog. Here are some recipes for making vegetable soups:
Ingredients:
2 big carrots, peeled and cut into large bits
4 celery stalks, cut into large portions
4 green cabbage stalks 1 big baked potato, diced
2 tsp. Italian seasoning
7 cups of water
Recipe:
Combine all of the ingredients in a large stockpot. Bring to a boil, then reduce to a low simmer, covered. Allow for a 45-minute gentle simmer. Allow cooling for a few minutes before filtering and transferring to storage containers. This broth is completely suitable for use in soups and other recipes!
Ingredients:
1 (15-ounce) can organic diced tomatoes
3 medium peeled and roughly chopped carrots
1 peeled and sliced sweet potato into 4 to 5 slices
1/2 cup washed and drained red lentils
1-quart veggie broth or water (no onions or garlic)
3 medium carrots, peeled and cut into 1/4-inch x 2-inch sticks
12 halved grape-sized tomatoes
10 chopped fresh basil leaves plus 5 entire basil leaves cut into chiffonade for garnish
1 tablespoon olive oil
Recipe:
In a large pot, bring the tomatoes, carrots, potato, lentils, and water to a boil over medium-high heat. Reduce the heat to low and cook for 25 minutes, or until the lentils and sweet potatoes are tender. Purée the soup with an immersion blender or food processor until velvety smooth. Cook carrot sticks in boiling water until they are just soft. Shock in ice water and keep aside for garnishing.
Ingredients:
1 large cucumber
2 – 3 vine ripe tomatoes (NO GREEN PARTS, leaves, or stems!)
1 bell pepper (remove seeds)
1/5 cup canned 100% pumpkin puree
A few sprigs of parsley
2 cups chicken broth
Recipe
Vegetables should be washed and skinned if necessary or preferred. Cut into 1-inch cubes. Blend or process all of the ingredients in a blender or food processor with the broth until smooth or the consistency of your preference is obtained. Serve chilled, at room temperature, or warm. This recipe serves 6 people. For up to 4 days, store in an airtight container. You can freeze any unused or surplus parts for later use.
Ingredients To Avoid While Making Soup
While making soup one must take care of the ingredients not to put in the soup:
Salt
Before you feed soup to your dog, you should be aware of the elements that should not be included. Salt is the most harmful component that you should never offer to your dog.
Although dogs can handle little amounts of salt, ingesting a significant amount can result in moderate to severe poisoning. Some of the symptoms include vomiting, diarrhea, and loss of appetite. However, there are more extreme incidents that can result in kidney diseases and even death.
Onion and garlic
Other components that should not be used in your dog's soup are onion and garlic. These compounds deplete their red blood cells, resulting in hemolytic anemia. There is also the possibility of causing gastroenteritis in dogs.
Mushrooms
While store-bought mushrooms are OK for dogs to eat, wild mushrooms should be avoided since they may be harmful.
If your dog consumes a toxic mushroom, he or she may get symptoms such as wheezing, vomiting, diarrhea, and changes in the heartbeat. Toxic mushrooms can induce organ failure, convulsions, and comas in dogs at their most severe.
All in all, vegetable soup is also fully natural, organic, paleo nutrient-dense, and good for consumption. The soup's flavor will mature as it sits in the fridge for several days, giving it a more robust flavor, hence can last for days.
Takeaway
So yes to the question can dogs eat vegetables soup or not? Your dog can have vegetable soup as it is good for dogs and  can utilize it as a diet supplement when your dog is sick or just include it in their diet so they can have a dose of fiber. So do not worry if your dog has some soup that you spilled on the floor.