Talking about dog supplements,  Nutra thrive has caused a stir in the market and people are using it in their dog's diet. The internet is loaded with Nutra thrive for dogs reviews but is it worth your budget? The product has earned a good rating. Let's have a read.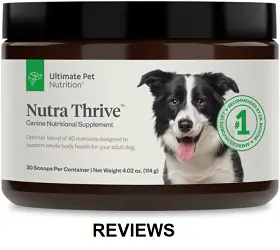 What is Nutra-Thrive? 
Nutra Thrive is a food supplement like other supplements to add to a dog's diet. It improves the digestion and overall immunity of dogs. So basically the idea is, feeding your dog everything that it needs to live healthy and happy because a healthy dog is a happy dog.
Everyone wants to feed their dog the best diet in the world. But we guess,  no diet is as balanced as it should be especially if your dog eats home-cooked food. So adding a little power booster is not a bad deal!.
Ingredients
Nutra Thrive is available in powdered version. It is said to promote a balance between good and bad bacterias so that the dog's body stays fit. You have to mix up the right proportion of supplements in your dog's meals. As it tastes like a piece of bacon so technically every dog eats it without a hint of some foreign element in their food.
The owners claim that Nutra Thrive is loaded with vitamins, minerals,  antioxidants, and digestive enzymes. The key ingredients include:
Superfoods
Which include Carrot and mushroom blend; (Methylsulfonylmethane; Spirulina; Chlorella) Carrots are a very healthy alternative to mushrooms and are suggested by AKC also to be included in dog's diet.  Adding them to your dog's food is a great nutritional addition. Nutra thrive provides raw mushrooms (by raw we mean without spices or oil) which is a big yes if you want to feed Mushrooms to your dog.
A canine blend including Glutathione inactive yeast and beef liver
Glutathione here is a powerful oxidant. Oxidants have great anti-aging qualities. This makes your dog healthy and helps prevention of body deterioration with aging. So it keeps your dog young and fit.
Probiotics and enzymes
Digestive health is very important. Bad digestion is a root cause of a lot of health problems. Probiotics keep gastrointestinal health on point. They also prevent dogs from getting diarrhea. Now we all know how diarrhea affects the dog's health in unimaginable ways and most diseases show a starting symptom of diarrhea.
(To know the severity of adverse effects of diarrhea, read our articles pregnant dog diarrhea and dog diarrhea at night only).
Nutra thrive has a probiotic named Lactobacillus casei which is already present in your dog's gut.
Vitamins and minerals like Kelp, Biotin, Riboflavin, Folic acid
Supplements including biotin are well known to cause great hair and nail health. Folic acid is important to be included in the diet as well. However,  if your dog is already taking other medicines,  consult a vet to take advice. Folic acid, if taken with other drugs can alter the effects of both supplements and the drug.
How to add Nutra Thrive in dog's food
It is as simple as that.  Just make a syrup of recommended dose by adding a little water. Then mix it well in dog food. Nutra thrives claims to meet all the needs caused by nutritional deficiencies in your dog's body.
Recommended dose:
The dose depends on your dog's age and body weight. If your dog is less than 30lbs, mix one scoop of Nutra Thrive in his food.  If the weight is between 30-50lbs, 1.5 scoops are recommended, and if it's an adult dog that weighs more than 50lbs, add 2 scoops to the diet.
This is a daily recommended dose. Break it down in proportion if your dog eats more than once daily. For example,  if you feed your 30lb dog twice a day, add 0.5 scoops to each meal.
Nutra Thrive cost
One jar of Nutra thrive which has 30 scoops costs approx.$70.  So a young pup weighing less than 30lbs will consume one jar a month. Not that heavy on a budget!
For adult dogs, you will need 2 jars a month. Nutra Thrive gives 3 jars at approx.  $189. Buy the deal.
Also,6 jars are available in approx. $357. With six jars an adult dog weighing more than 50lbs can pass three months. The yearly budget of Nutra Thrive consumption for an adult dog is approx. $1428 which is not a bad deal if it suits your dog. The product can also be returned and you can get your money back if you are unhappy with the results. However, there is NO free trial for Nutra Thrive.
You can purchase Nutra Thrive online and will get the shipment within 15 days.  The jar can be used up to18 months of manufacturing date.
Nutra Thrive for dogs reviews
Nutra thrive has earned great customer reviews. The ingredients provided should work well in dogs as technically every dog needs them for better health.
Some pet owners claim that by using Nutra Thrive, their dogs were able to fight serious diseases like cancer. They say otherwise it was not possible if their dog had bad health. Nutra Thrive helps their pet to gain good health and helped them fight the disease in a better way.
Most of the reviews suggest that Nutra Thrive is a recommended product with a lot of benefits.
Benefits of Nutra Thrive
As the label claims,  the product is rich in supplements that improve your dog's health.
As it contains antioxidants,  it improves cells generation making your dog young and fit.
This is also known to improve joint health making your dog Stronger than ever.
Nutra thrive has ingredients that improve hair health making the dog's coat lustrous and shiny.
It reduces nutritional deficiencies.
Nutra Thrive is easily available.
It helps in relieving muscle and joint pain due to its anti-inflammatory properties.
Reviewed disadvantages of Nutra Thrive
Nutra thrive has gained massive popularity amongst pet owners. However personal experiences can differ. Also, not every dog is the same. Pet owners have reviewed Nutra Thrive and according to them
This is expensive especially if you have an adult dog whose nutritional needs are more than younger ones.
Some pet owners claim that Nutra Thrive did no benefit to their pet and they felt deceived.
There is a hype that says Nutra Thrive includes Silica in supplements which is extremely dangerous to pets. The dog owners even blamed the company for their pet's demise.
Dog parents also claimed that Nutra Thrive has caused stones in Dog's bladder which were different from calcium stones.
Is Nutra Thrive for dogs any good?
Apart from mixed reviews from both sides, no supplement from Nutra Thrive was ever recalled by FDA or other food authorities. The ingredients are a good mix and beneficial to dogs.
On the matter of silica, the company has yet not responded to any such claim.
Does Nutra Thrive works?
For some it does and for others, this was a useless product that just added a bill to a budget. So we think personal experience matters when it comes to if Nutra Thrive is worth it?.
Weighing between these mixed reviews,  most owners are in favor of the supplement and say that Nutra thrive is a good product for dogs.
Dr. Gray Richter Nutra Thrive for dogs reviews
Dr.  Gray Richter who is one of America's favorite vets has Developed Nutra Thrive. He aims to provide a balanced diet for dogs. According to Gray Richter, pet food needs to have all the natural ingredients. Nutra Thrive is a supplement that is comprised of everything organic. But how do you know if your dog even needs it or not?  Most dog foods today have a balanced ratio of needed nutrients and if dogs are already taking them,  no additional supplement is required.
Also,  Nutra Thrive is a power booster, and not every dog needs to increase all the listed nutrients. "Overdose" of nutrients can make your dog sick instead of doing any benefit to their body. So always choose wisely when you are giving supplements to your dog.
Keep in mind that Nutra Thrive makes your dog healthy because it meets the nutritional deficiencies in your dog. This is a supplement and not a medicine. Nutra Thrive is just a healthy mix to boost immunity, this is not a cure to any persisting health condition.
In last, whatever Nutra Thrive for Dog reviews suggest,  always weigh your options and decide wisely. These reviews are just to get a clear picture of the product and experiences of pet owners who are using it.