With our busy schedules, it often gets difficult to look after the diet of our pets. Dogs are not very considerate about their health and often get stomach upsets, diarrhea, and frequent weight loss. They chew contaminated objects or play in the soil which can lead to Gastric upsets. To treat such problems and also avoid complications in the future, Purina EN dog food is a great choice. The EN stands for Gastroenteric. It is an easily digestible food that is made with high-quality ingredients to fulfill your puppy or adult dog's all nutritional needs. However, some people have had a bad experience with Purina EN food and lost their trust. What are Purina EN food alternatives? Let us have a look.
A diet to control gut problems is mostly recommended because frequent visits to the vet can cost you a great deal of money. Moreover, it also has preventive benefits and strengthens the immune system.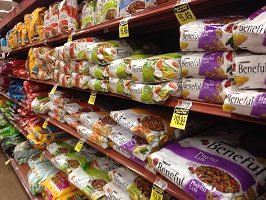 Why is Purina EN  used?
Purina EN is a highly recommended Dog food that tastes amazing and resolves most of the GIT problems dogs face. Here the EN is for Gastroenteric, which means this dog food is specially formulated to provide our doggos with Gastroenteritis problems some relief. It has been successfully used to treat many gastric problems. This could include minor symptoms like frequent stomach upsets, vomiting, diarrhea, or constipation.
On the other side chronic disease like IBD( Inflammatory Bowel Disease), Pancreatitis, and Diabetes symptoms can be controlled through it. Moreover, it has also been used to treat worm infestations in the gut.
Some other reasons for getting Purina EN are changes in appetite, blood in feces, and weight loss.
How do the ingredients in Purina EN help?
Purina brings easily digestible dry food containing prebiotic fibers. Prebiotic fibers are best for maintaining normal bowel movements, this means both diarrhea and constipation come to an end.
It is made with quality ingredients coconut oil or medium-chain triglyceride. Which means it has a higher protein content but a much lesser fat percentage.
Furthermore, it has antioxidants, containing essential vitamins and minerals that help to keep your dog healthy. They also help in the digestion and absorption of many important nutrients.
Lastly, it has great taste, and even picky dogs end up loving it.
Who can take Purina EN?
They are also suitable for dogs with skin or stomach allergies. Dogs of all breeds and ages have experienced its positive effects.More importantly, it is suitable for diabetic, pancreatitis dogs and those with gastroenteritis problems
Common GIT diseases and their effects on dogs
Pancreatitis
Basically, this is a disease where the enzymes in the pancreas end up digesting the organ, hence there are fewer enzymes left for digestion of pats and proteins. It can lead to chronic pain and weight loss but also disturbs the GI motility and absorption.
Pancreatic enzymes play a crucial role in digesting fats and protein. Thus aiding food filled with enzymes, minerals and vitamins ease the GI tract for dogs.
IBD
Inflammatory Bowel disease could be due to genetics or hypersensitivity reaction. The Inflamed Gastrointestinal Tract is unable to function at its best. Most commonly dogs present with ongoing vomiting and diarrhea. Again a food supplement that could control the motility or flow of the dog feces is the best treatment of clinical symptoms.
Gastrocolitis
As the name suggests, it is the inflammation of the Colon. The usual symptoms are diarrhea, pain, and discomfort during defecation.
Worm infestations
Worm infestations are mainstream among dogs because they don't take much care of their hygiene. They can get them from other animals, toys as well as soil. The worms in the gut can often lead to diarrhea (watery or bloody or rice stool), weight loss, and vomiting.
There are deworming drugs that can kill parasites. Moreover, specially formulated food also gives great results and is easy to be ingested by dogs.
Drawbacks of Purina EN dog food
There are many benefits that the Purina EN diet holds, but some dog owners have not had the best experience with it. Why are dog owners searching for Purina En dog food alternatives? Why didn't it work out the best?
Can only be used on Veterinarian's recommendation
First of all, you can't just go and buy Purina EN like normal Dog Food. A prescription from the Veterinarian is a must. It is not at all suitable for a dog who shows no signs and symptoms of GI discomfort. This puts off many people from buying it.
High Cost
Compared to normal food, or other options the cost is relatively high. If your dog has fallen in love with the flavor, this comes as an expensive deal.
Follow a transit plan before implementing
If you don't follow a transit plan correctly and switch your dog to Purina EN all of a sudden it can lead to tummy upsets. Even though you're using the special food to treat his gut abnormalities you'd still see him unwell.
Damaged cans
Most of the customers who use online services were delivered damaged cans. This was a frequent complaint seen on many online purchasing sites. The blame can be put on the brand name as well as the supplier, but the effect is seen on purchases. Damaged cans can have clostridium bacteria that can again lead to infections.
Purina EN Dog Food Alternatives
If you have already given up on Purina EN dog food, what are the other food alternatives?
Royal Canin Gastrointestinal low fat dry food
Royal Canin is most frequently used. The Canin in its name is for Canines.This is recommended and effective against many Gastrointestinal disorders. Pups are most susceptible to falling ill. It is a low-fat formula and suitable for puppies and small toy breeds. Fiber content is also less so that thus there is no stomach stress.  It falls in the wet food category.
Moreover, it's suitable for pancreatitis and IBD and tastes palatable. However, if you're looking for a budget-friendly diet, this is not for you.
Bil Jac Sensitive Solutions
Bil Jac Solution treats both skin and stomach allergies together as they go hand in hand most of the time. It is gluten-free. It is especially rich in antioxidants that aid in making the immune system stronger.
They have got a palatable taste and easily chewable. It costs a lot but not more than regular health visits.
Diamond Care Sensitive Stomach Formula
This one is for extremely sensitive dogs, it is gluten-free and grain-free. The ingredients also include prebiotic fibers, vitamins, and Omega Fatty acids that keep the bowel movements healthy and greatly protect the fur.
Hill's Science diet sensitive stomach and skin
This one is made with chicken and prebiotic fibers that ease down bowel movements. It's so delicious that your dog will lick it to bits. The diet plan has easily digestible food that has helped a lot of dogs.
Moreover, for dogs with hypersensitivities, it is a great option as it contains Omega 5 and Vitamin E. both of which improve the skin and the outer coat of dogs.
Blue Buffalo Life Protection Formula
For dogs with pancreatitis, this is the best food supplement you'll ever come across. It is a healthy source of protein and also contains many essential vitamins.
Nutro wholesome essential healthy weight dry dog food
All the pancreatitis dogs can opt for this food alternative too. It has easily digestible carbohydrates like sweet potato in its ingredients.
Restricted Bland diet for dogs by Dave's Pet food
If you are looking for a bland diet that's easy on your pocket and solves your dog's gut issues, here is the one for you. It is wet, thick in consistency, and can also be mixed with other food. This is made for sensitive stomachs, therefore involves no wheat or gluten.
Nature's Recipe Easy to Digest
This is a great option for adult dogs. It is 92% digestible and is popular amongst dog owners. It has been successfully used to resolve bloating, diarrhea, vomiting, and gland impaction.
Naturvet advanced probiotics and Enzymes
Are you looking for supplements? This comes under the Affordable supplements. It contains six probiotics for correcting your GIT system.  They are delicious to dogs and also strengthen the immune system.
4 health
4 health was mixed together especially for the nutritional needs of large breed dogs. It aims to keep a dog's physique lean.
Injectable Options
If you don't want to put your four-legged companion on aN EN diet, there are injectable options. Cerenia, Famotidine, and Metoclopramide can be used to treat temporary mild bowel and nauseated symptoms.
Prozymes
For pancreatitis, add oral prozymes into the food 15 minutes before serving. Stir them well and they help resolve digestion and absorption that otherwise would need pancreatic medication.
Simple cooked chicken and rice
If the doctor suspected just a common infection, you don't need to switch to an expensive food option. Use simply cooked chicken and boiled rice to help settle down diarrhea.
With that said, I would conclude that prevention is better than cure. Giving your dog a hygienic diet, and adding essential vitamins, fibers and minerals can keep him safe from many diseases. All of these strengthen the immune system and help combat many infections and parasites. However, in case of a gut disease most recommendations go with Royal Canin products if not Purine EN. Royal Canin is an excellent dog food alternative for Purina EN.
Take care of your doggo, and together live a healthy life!