Looking for the rebates of Simparica and want to avail benefits? You are at the right place! You must have known that different flea and tick treatment medications for dogs offer rebates as a marketing strategy, but it works for the customers well. Most customers prefer Simparica or Simparica Trio over other flea and tick treatment medications due to its rebates.
Simparica is an effective flea and tick treatment medication, which has made a prominent place in the market nowadays. One of the primary reasons behind its success is Simparica Rebate. If you are one of those customers who are new at it and don't know how to avail them efficiently, we are here to guide you.
What's the catch?
The Simparica rebate lets the customers get flea and tick treatment chewable at very budget-friendly prices. All you have to do is simply visit their website, and you will get enough of the information as well as rebates from there.
For further information about how to get a Simparica rebate and what are its benefits and cons, keep reading the article!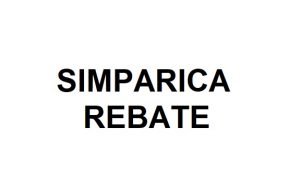 What's the rebate rule?
As of now, you know about Simparica Rebate, but understand that many of you are unaware of the method it works. Let us tell you!
The Simparica rebate works, particularly on the loyalty program. Now, what does that mean? It refers to the simple rule that one has to buy more and more products to avail higher discounts. We know it may seem a bit more beneficial for the company, but offering you a deal is just a strategy to gather more and more customers so that they can save a lot of dogs from flea and tick.
Simparica Rebate offers:
When a person buys Simparica Flea and Tick chewable, he earns some points according to his purchased items. But for a standard, one receives a dollar on every 10 points he makes. Now, those points give you an estimate of how many dollars you will get discounted on your net purchase.
Let's explain it with an example!
A person earns 50 points on buying three doses of Simparica. Now, how much reward will he get? Well, as we know that 10 points give us a $1 bonus, then 50 points will let the customers win a $5 discount.
Similarly, a person can earn 350 points if he buys 12 doses of Simparica. In such a case, one will get a discount of $35 on the purchase. Isn't it exciting? You bet!
In short, for 12 doses, the reward is $35. For six doses, it's $15, and for three doses only, you will get $5. No matter your purchase, you are going to get a reward to some extent for sure.
But in the case of Simparica Trio, the reward is a bit higher. Do you want to know what? Hang in there! For a 12 dose purchase, a person gets $55 as a reward, whereas, if you plan on buying six doses, keep $25 in your mind as a reward.
Now the question arises of how you receive the reward. In the form of a reloadable card, the customers get a bonus which they can later use in their offices for billing.
How to get a Rebate?
The most important thing one has to do for availing of the rebate is to save the invoice when you visit your vet to get flea and tick prevention done, permanently save the invoice. Why is an invoice that important anyhow? Because the invoice is the key which will take you to the reward!
You have to visit the Simparica website first and find where they mentioned receiving your reward. Upload the invoice there and complete the rebate request. If no, then you have to mail the invoice with their help to let them know your query. As a result of both methods, you will receive a mail-in of about 4 to 6 weeks confirming that you have got your rebate, and just after that, you are going to be able to get yourself rewarded.
In simple steps:
Upload your product receipts (even from accredited online pharmacies, as long as they require a proper prescription)
You will be awarded points
Redeem those points for rebates
Load them to a Visa card
They can only be spent at vet clinics
Note: The rebate system asks you to keep the reloadable Visa they send.  Whenever you upload the invoice on their website, the points you redeem are electronically reloaded on the same card. The rewards are programmed according to the Visa Card. Why is that so? Because it allows only the customers having a credit card processing code matching vet clinics to use the card. Also, you will have to keep that Visa Card with you, no matter for what purpose you will visit him.
Advantages of Simparica Rebate:
Simparica Rebates are attracted a lot of customers
Product awareness is developed among the merchants and buyers
Brand loyalty is set in the market
Simparica rebates increase the visibility and sales of the company
The rebates are tax-free
Buyers get partial cash reimbursement for their purchases
Disadvantages of Simparica Rebate:
Sometimes, a company has to face a lot of problems to maintain the rebate offers
It does not affect all the customers
A delayed reward giving process
Some customers think of it as a sleazy marketing tactic.
Bottom Line:
Just to let you know, we care for you more than we care for the company. So, we agree that rebate is just a marketing strategy, and there can be other methods to benefit the customers. Although the product isn't poor, getting it only because of rebates can make the dog owners compromise many aspects.
What do you say? Well, if you can afford much, we suggest you don't run behind the rebates; however, if you are needy for such opportunities, avail as much as you can to keep your dog healthy and sound after all rebates are just its free vet-visit money for people who are already using Simparica Flea and Tick chewable. Still, just bringing down the prices is a lot of convenient strategies and will simply benefit a lot of customers, and it will be an excellent strategy as well.