Sprout is a pet food brand by Fleet farm stores. The food is manufactured in the USA and distributed via fleet farms retails and websites only. They produce both dog and cat food varieties. Amongst dog owners, sprout dog food is known as "pet food in the budget".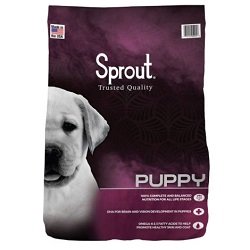 Sprout Dog Food Product Line
| Product Line | Ingredients | Protein Content (%) | Grain-Free | Price (per lb) |
| --- | --- | --- | --- | --- |
| Small Breed | Chicken, Sweet Potato, Peas | 26 | Yes | $2.50 |
| Large Breed | Salmon, Brown Rice, Carrots | 24 | No | $2.00 |
| Senior | Turkey, Green Beans, Barley | 20 | Yes | $3.00 |
| Weight Management | Lamb, Lentils, Spinach | 18 | Yes | $2.75 |
| Puppy | Beef, Sweet Potato, Blueberries | 28 | Yes | $3.50 |
Nutritional Information
| Product Line | Calories (per cup) | Crude Protein (%) | Crude Fat (%) | Crude Fiber (%) |
| --- | --- | --- | --- | --- |
| Small Breed | 350 | 26 | 14 | 5 |
| Large Breed | 300 | 24 | 12 | 6 |
| Senior | 275 | 20 | 10 | 7 |
| Weight Management | 250 | 18 | 8 | 8 |
| Puppy | 400 | 28 | 16 | 4 |
Allergen Information
| Product Line | Wheat-Free | Corn-Free | Soy-Free | Dairy-Free | Chicken-Free |
| --- | --- | --- | --- | --- | --- |
| Small Breed | Yes | Yes | Yes | Yes | No |
| Large Breed | Yes | No | Yes | Yes | Yes |
| Senior | Yes | Yes | Yes | Yes | Yes |
| Weight Management | Yes | Yes | Yes | Yes | Yes |
| Puppy | Yes | Yes | Yes | Yes | No |
Product Sizes
| Product Line | Bag Size (lbs) | Recommended Daily Serving (cups) | Number of Servings per Bag |
| --- | --- | --- | --- |
| Small Breed | 5 | 0.5 | 10 |
| Large Breed | 15 | 1.5 | 30 |
| Senior | 10 | 1 | 20 |
| Weight Management | 20 | 2 | 40 |
| Puppy | 30 | 3 | 60 |
About sprout dog food manufacturers
Fleet farm is Minnesota based animal store that deals in pet food. They also have branches in different states like north and south Dakota, Lowa, and Wisconsin. Their Pet food is made by a third party and distributed through fleet stores only. Sprout dog food is not available on other big websites like Amazon.
About Sprout dog food
Sprout has a range of dog food products for both adult dogs and puppies. They offer both canned and dry dog food. Sprout dog food has 25% protein and 35% fats but has a 40%carbohydrates proportion which is slightly excessive than others.
The more carbohydrates portion part is slightly controversial. We all know how nutritions work. More protein means less hungry dog and more carbohydrates mean more hunger and eventually a bulky body. Dogs consuming more proteins are an ideal nutritional combination.
Apart from nutritional division, sprout dog food deals in high-quality ingredients like turkey,  chicken,  beef and Salmon, etc. All the well-known dog foods have these high-end quality taste recipes which can provide more nutrition on a low budget.
Some varieties of sprout dog food contain grains also. Although some dog owners don't like to feed their dogs grain food others strongly support grain versions for their pets. Sprout dog food has barley,  peas, legumes, and brown rice recipes which provide fiber, micronutrients, plant-based protein, and carbohydrates to your dog.
Other dog foods offer wheat recipes so sprout has an edge of using superior grains than others. They use chicken fats for their food recipes as it is more budget-friendly and enhances the food flavor.
Some sprout versions contain dried beetroot and flax seeds too. This provides fiber and plant-based omega3 fatty acids which are excellent nutritional sources for your dog.
Why dog owners like to buy sprout dog food?
As mentioned earlier, the sprout is considered a cost-effective dog food. It has protein,  fiber, and fats that are good for your dog's health. This much nutrition at affordable prices is not a bad deal.
Many people claim that their dog gets addicted to its savory taste and has liked almost all the different versions of food.
Sprout dog food claims that it doesn't only feed your dog with well-balanced nutrition but also improves its coat and skin condition and most people found it true in their dogs.
It has plant-based fiber and protein which ensures the availability of vitamins and nutrients to your dog.
Possible side effects of using sprout dog food
However, others claim that sprout dog food is not as good as it says. Sprout dog food has faced a steamy controversy after facing FDA supported ban on a certain variety of their dog food. The food is considered harmful for pets due to the presence of aflatoxin.
People are rejecting sprout dog food as
Sprout dog food can cause an allergic reaction in a dog. Many of their recipes have grains and certain dog breeds are allergic to different legumes or grains.
It can cause an upset stomach. Many owners claim that sprout dog food makes their dog Sick.
People buy it because it's cheap dog food without realizing that it could be worse for their dog's health.
As it has more carbohydrates,  many dogs are likely to get diabetes in a long run.
Having more corn syrup and sweet taste, dog owners claim that it destroys their dog's teeth. Dogs may like it because some versions have a sugary taste but eating too many candies can weaken your pup's teeth.
Many dogs owners object to the fact that it has more carbohydrates portion. They don't consider sprout dog food as a wise choice for their dogs. Dogs need more protein to stay fit and active. Carbohydrates make them sluggish and destroy their physique.
Although,  sprout claims they improve dog's skin but many owners claim itching,  redness and sticky coat in their dogs.
Is sprout dog food FDA approved?
Some versions of sprout dog food were recalled by FDA. As sprout dog food use corns in some recipes,  dogs are at risk of toxicity. A mold "Aspergillus flavus"  can grow on corn and releases a toxin called Aflatoxin which can be fatal to dogs if ingested in higher quantities. As pets use certain dog food for quite a long time so there can be chances of aflatoxin toxicity.  This toxin may be present even if there is no visible mold.
The versions that were recalled by FDA were produced between 3rd and 5th April 2020. These were
Sprout Bites & Bones, 50-pound bags. (Lot Code TC2 4/APRIL/2020)
Sprout Hi-Protein, 20-pound, and 40-pound bags. (Lot Code TI2 4/APRIL/2020) (Lot Code TI3 4/APRIL/2020)(Lot Code TI3 4/APRIL/2020)
Sprout Maintenance, 40-pound bags. (Lot Code TB1 5/APRIL/2020)
Sprout Puppy, 20-pound bags (Lot Code TA3 4/APRIL/2020) (Lot Code TA1 5/APRIL/2020)
How aflatoxin poisoning can affect your dog
Aflatoxin can be fatal in some cases. This is how serious the matter is. Aflatoxin poisoning must be treated as soon as possible and by professional veterans only. But how to know if your dog has already eaten sprout dog food and is now affected by aflatoxin poisoning?  Well,  pay attention to symptoms.  If your dog gets upset stomach or diarrhea after eating sprout dog food or if your dog is having less or no appetite consider the option of aflatoxin poisoning.
It can cause jaundice in some dogs so if you notice a yellow tint in your eyes,  consult your vet as soon as possible.
This toxicity can damage a dog's liver. Since the liver can get damaged without showing symptoms so if your dog has been on controversial food consult your vet for further checkup.
As soon as you know that your pet has fed the recalled dog food, immediately stop consuming them.
Your vet should know dog food history to check up for hidden symptoms of aflatoxin poisoning. FDA has taken a step to ensure pet safety. They have encouraged vets to submit reports if dogs have shown aflatoxin poisoning after eating recalled brands.
Should you feed sprout dog food to your dog?
Well,  if your dog has already been on sprout dog food and it has an overall positive effect with no visible side effects, there is no harm in continuing it. If your dog has eaten recalled products,  discontinue the food.
Dog food is sometimes entirely dependant on your budget so for low-budget food, it's ok but still, it's better to upgrade dog food to some high-end brands. After all, it's a matter of safety and well-being for your sweet pup. He deserves everything best!